Absolute Ebonized Pearl: A mini collection.
Yesterday I posted a would-be art shot of some very interesting, mostly off catalogue Sheaffer Balance pens from the 1930's in the color sheaffer called Ebonized Pearl. One fellow reminded me I'd left out the off-catalogue (in this color) golf pencil. Yes, I'd been focusing on pens and had forgotten that interesting item.
Here is the thread for that art shot.
Click Link for Sheaffer Ebonized Pearl Balances with off-catalogue variants
I also had enjoyed recently tossing most of my Roseglow Balances into a tray for a rough photograph outside the usual light box. Here is the thread for the Roseglow tray:
Click Link for Sheaffer Balance Absolute Roseglow
So, today I plonked all my Ebonized Pearl pen variants (and some pencils to match) into a tray for similar treatment. The photos remain rough. One day I need to make a larger light tent arrangement no doubt. Also I offer the photos (save for the first) at higher resolution. You will have to tell me if the 2000-pixel setting for most of these gets messy with the boardware-browser interface.
The scarce variants seen in the art shot above are present. The pens progress from slender to standard to oversize and largely from low line to high line. The rare non-white-dot OS thus should have been shown a couple slots to the left. Oh well. The presence of a large percentage of fancy, off-catalogue cap-band pens should be noted. The first 7 items are slender. Give the page a moment to load and the images should shrink to fit. Clicking on images will enlarge and/or re-shrink them.
The last 6 items are oversized. The very last pencil is oversized Autograph, with solid gold trim. I don't yet have an Autograph OS Pen. There is an Autograph standard set earlier in the tray, the pen at slot 15, its pencil resting above it across the top of tray. For that matter what's up with the round-ball clip on the Autograph set? I'd been under impression round-ball was discontinued in favor of flat ball before the release of the Ebonized Pearl color. Perhaps I was wrong. Or maybe this is another quirk of the "off-catalogue" finding.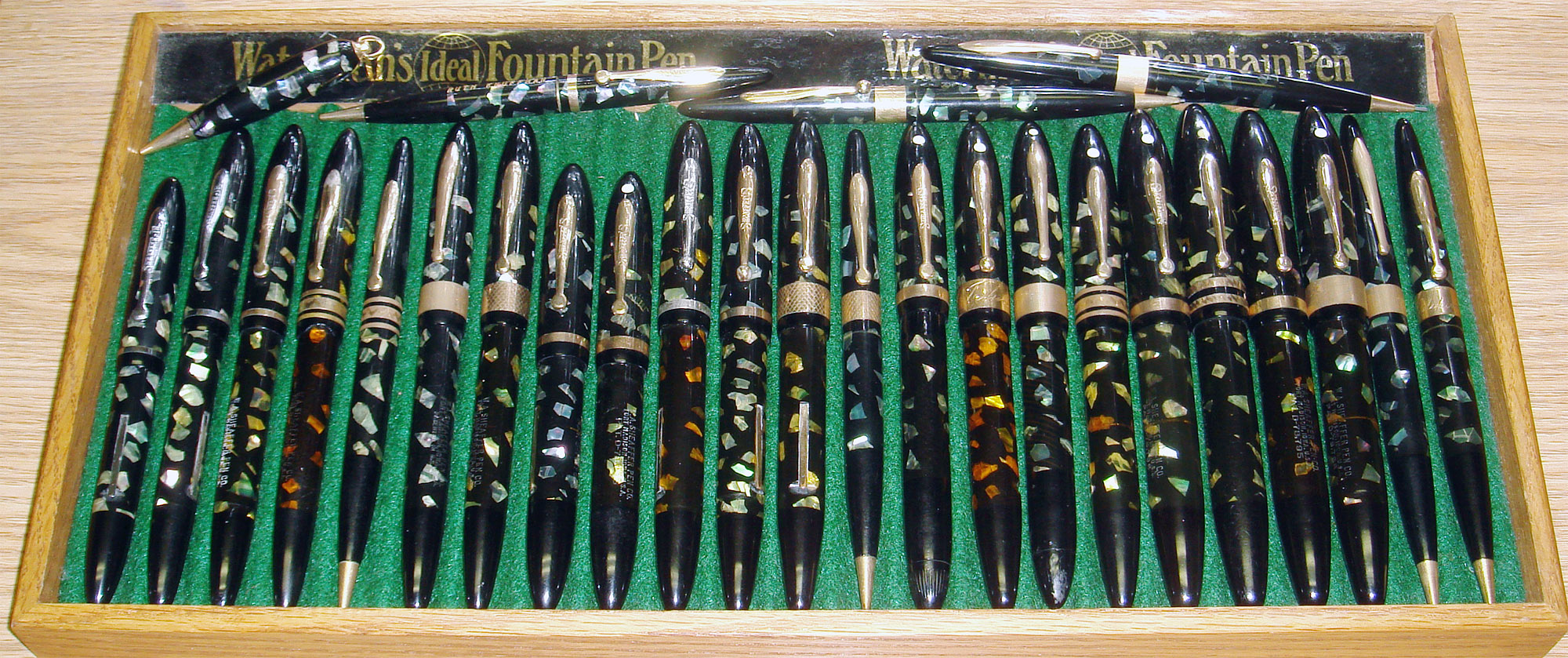 I'm not sure I hunt Ebonized Pearl in completist fashion. Certainly, as with all my Sheaffer collecting, I don't insist to have both lever fill and plunger fill versions of otherwise identical pens. If anything, the otherwise possibly completist spin I take on this color is... casual. I don't carry a list and don't eagerly hunt missing pens. But, when nice examples cross my desk (bargain finds or collection purchases) and one proves new to my collection, I do tend to toss it into the permanent collection.

This flat shot has ridiculous glare. Oh well. Someday with the larger light box, I can always reshoot.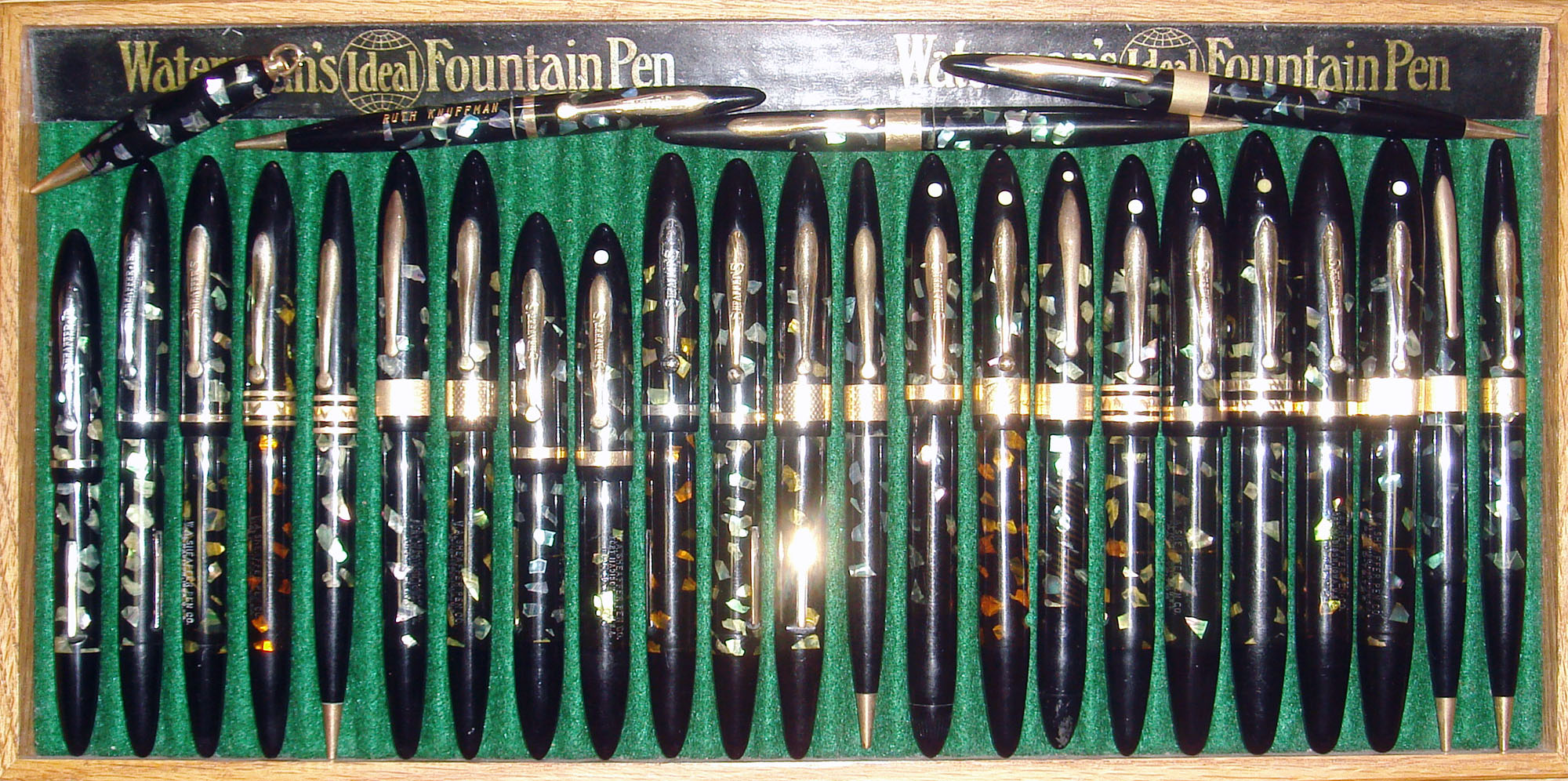 Finally, oblique in two planes (is there a term for that?), this one at 1500 pixels. Can you find the Canadian pen?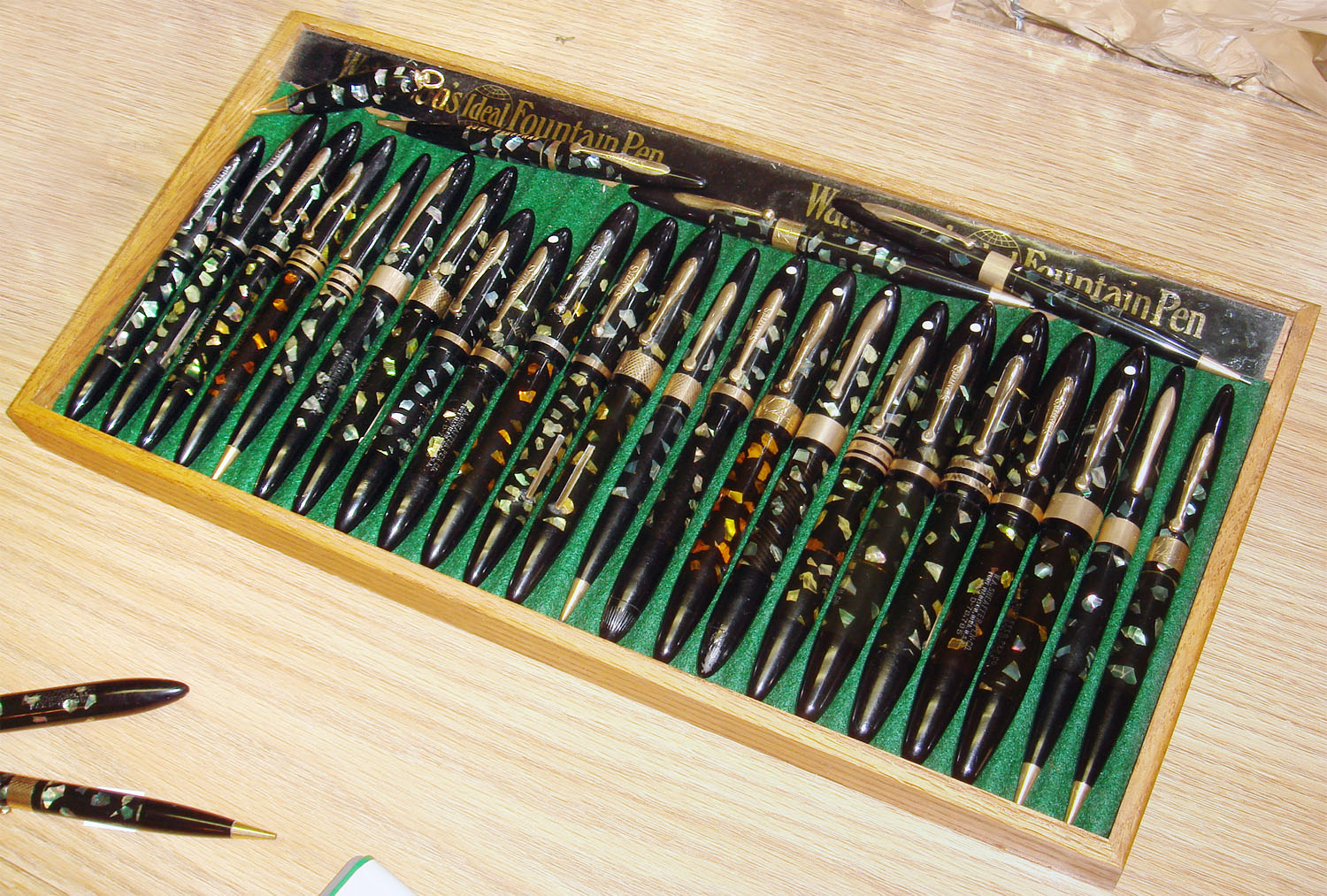 Comments invited.
regards
david