Ohio Pen Show 2011 Finds
Please see this link for full review of the excellent 2011 Ohio Pen Show:
Link---Ohio Pen Show 2011 REVIEW---Link
I have divided the pen show-and-kvell from the core review this time, as there are so many nice pens to show. If you want to know more about the pen show culture, the events of the weekend, and so forth, see the link above. This year I had my best pen finding show ever at Ohio. As noted in the formal review, there was less competition present for the cluster of us who stalk quality pen stock en masse. And, as always, Ohio- the most "vintage" show of all, had great pens to find.

First, I was blessed to encounter a collector who years ago let me photograph his collection of British Parker Duofolds and related models/series Valentine and Victory. I've purchased a few pens each year from him, but this year he mentioned he sought to liquidate his entire British Parker collection. He had sold but a few gem pieces so far. We chatted for fifteen minutes, and I took possession of a glorious personal collection in one fell swoop. I'm living the collector dream.

There are some scarce variants in this bunch, and most are in great shape. The pens date to the 1940's (perhaps some of the Valentines to 1930's). Parker's 1940's Duofolds resemble 1930's USA made streamlined Duofold, but were made in a far wider palette.
The Valentines might predate the Parker takeover (I need to review that) and, yes, the black caps on colored barrels can be correct for these. The later Aerometric pens in the bunch, from the 1950's, mostly are near mint with chalk-marks. Lovely, really. I particularly like the bandless candy-stripe pens. There are couple rare variants present.

Boom... instant fifty pens.

Here is the first half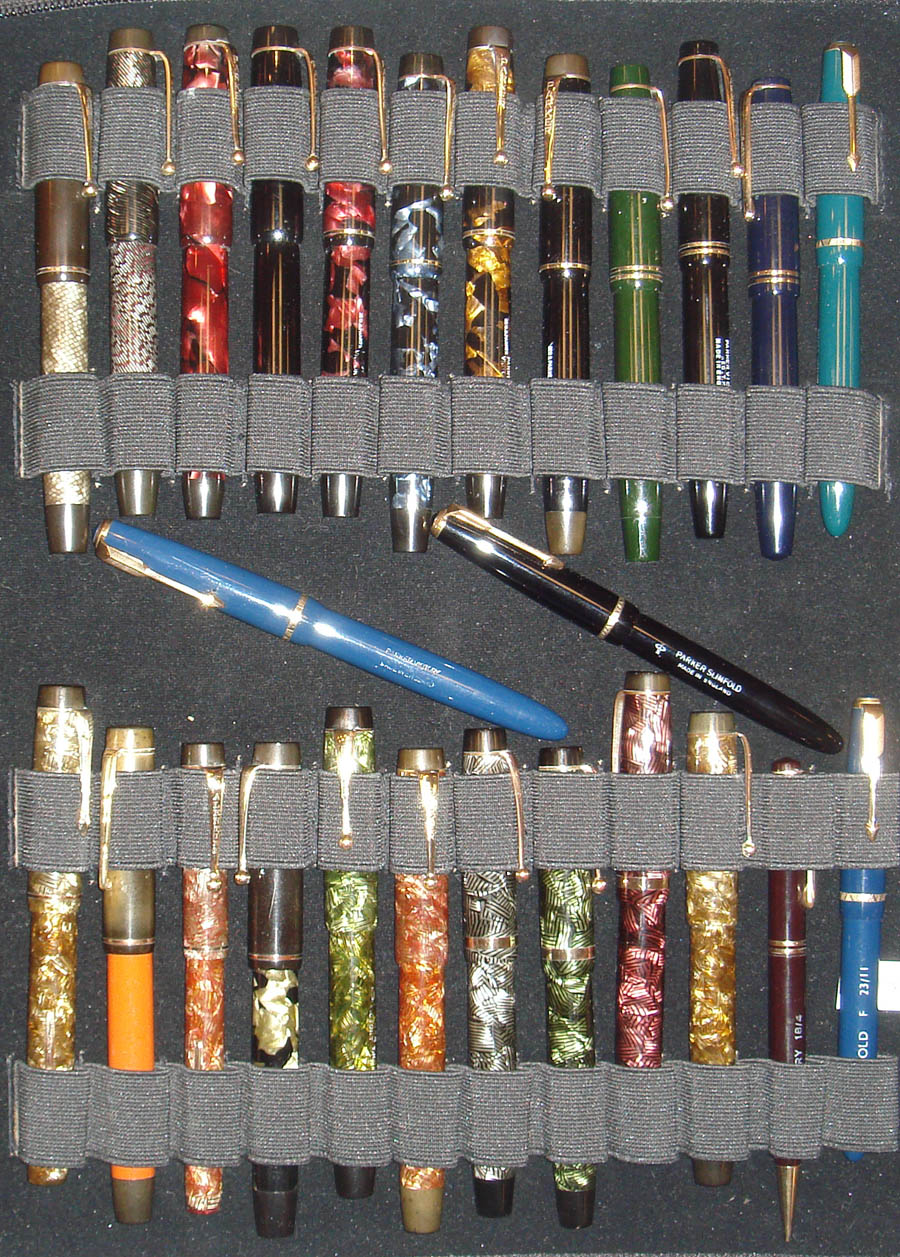 Here is the second half of the single-purchase British Parker collection.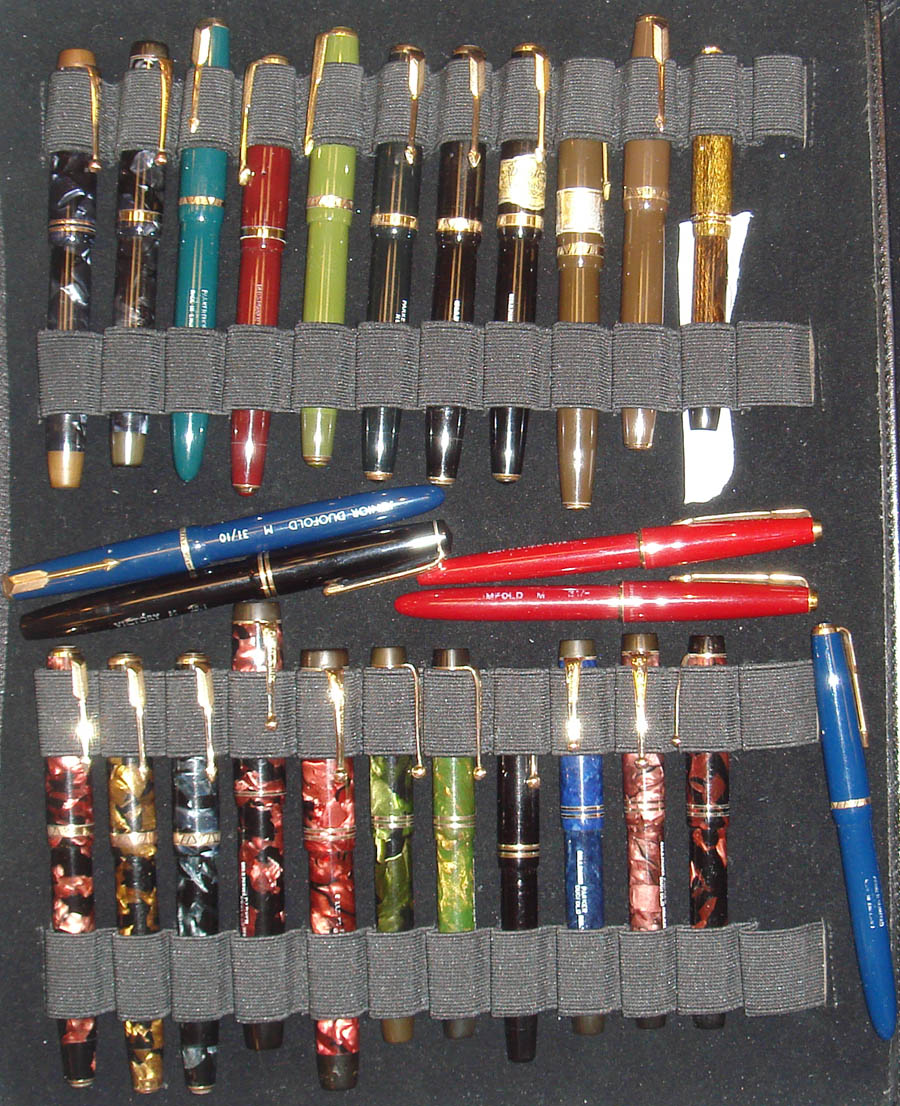 Happy happy David. It seems Dan Reppert actually reads my posts about Sheaffer pens. He targeted me with the one key piece missing from my Sheaffer sub-brand WASP pens in "Screaming Souls in Purgatory" plastic. The gray desk base. I've had several of the greens, but prior to this had not managed even to see the gray.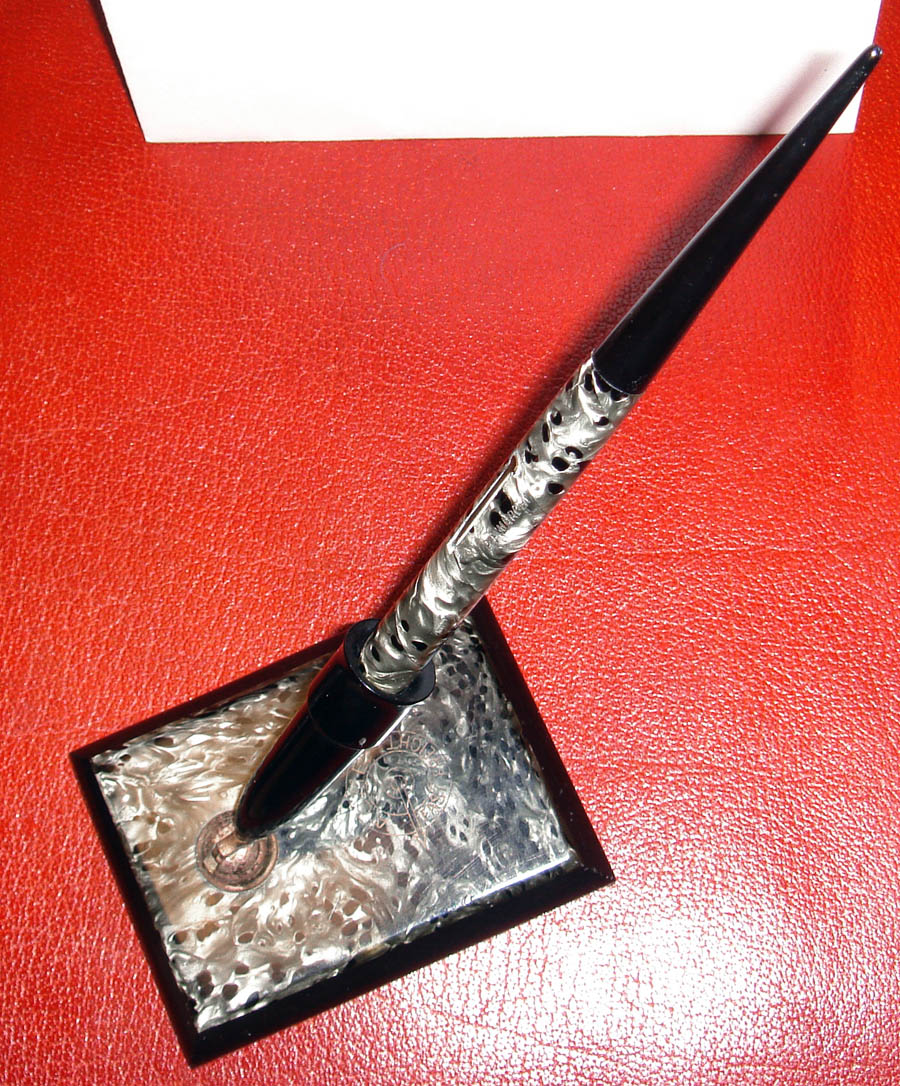 This next spread represents two collections that walked up to my table. I enjoy it when pens walk up to the table. Good thing I brought some empty cases



Top Row:


Good Service made by Parker for Sears in Emerald Mosaic. The first Slender model I've seen. I also own two colors in Standard
Mint Parker 51 Midnight Blue Aerometric
Superb 1942-5 Sheaffer Triumph Crest set
Just a Snorkel
Uncommon Parker 1930's "Thrift" set, this one with Challenger-like features
Sheaffer Touchdown
Post-war celluloid Sheaffer Statesman set.
Sheaffer sub-brand Vacuum-Fil in uncommon red pearl
Chocolate Brown Sheaffer Touchdown Statesman
Black Sheaffer Snorkel
Bottom Row:
No-name (maybe Eclipse) in stunning celluloid
Couple Snorks
Near mint (with set tag) first style Crest 1937-41 with white dot on barrel side
Lovely Blue-Shell 2nd Generation Wahl Doric
Lovely Garnet-Shell 2nd Generation Wahl Doric. Recall my post two weeks ago about grabbing my first Garnet Doric. Typical. Takes 13 years for the first. Two weeks for the second (and bigger) pen.
Very uncommon full-size Challenger-like Parker "Thrift Pen". Major find for my collection, and better by far than the one or two others of this sort I've found. Most of this style are Slender.
Lebouef. Chunky #4-nib pen. Gorgeous plastic
Wahl-Eversharp flat-top made for Gregg writing school. Kashmir was never used by Wahl for its own flat-tops. This one is a gem, about the best I've seen and the first I've managed to buy.
Green-Shell Wahl Doric with off-catalogue solid cap-band.
Stunning Lapis color Parker Duofold Senior
Amethyst-shell Wahl Doric.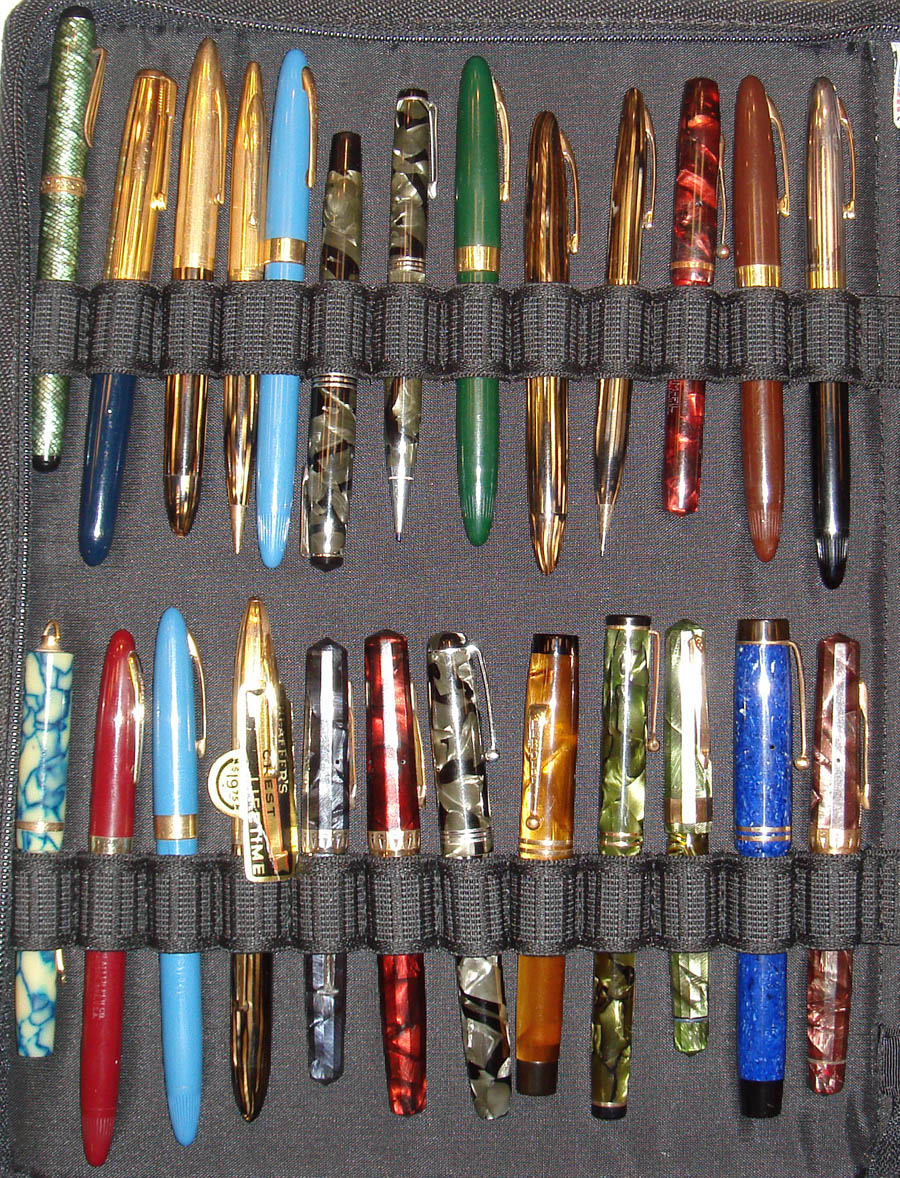 Well, this next one made me happy too, but happy for a pen friend. You likely know I deal heavily in the 1950's Sheaffer Snorkel series. Arguably the grail pen for the series is the all-Fiesta pen, with red "white dot" cap. This color "always" is found with metal cap, save for the perhaps 2-3 known to those-who-know that have matching cap. I found one a couple years back. A pen friend left me a standing order to find him another or to sell him mine when the time was right. To my great surprise, one turned up at this show, offered by a fellow Sheaffer collector. I bought it and sold it within five minutes following a quick call. This no doubt is the most brief ownership for any example of this monster Snorkel. Yeah, I was tempted to keep it, but my own Snorkel collection is limited to about 15 pens, and really, I did not feel need to keep two of this pen in my collection. Heck, I figure I'll someday sell the original example. Still, I might now be the only collector to own two all-Fiesta Snorks, especially at same time. This hobby is fun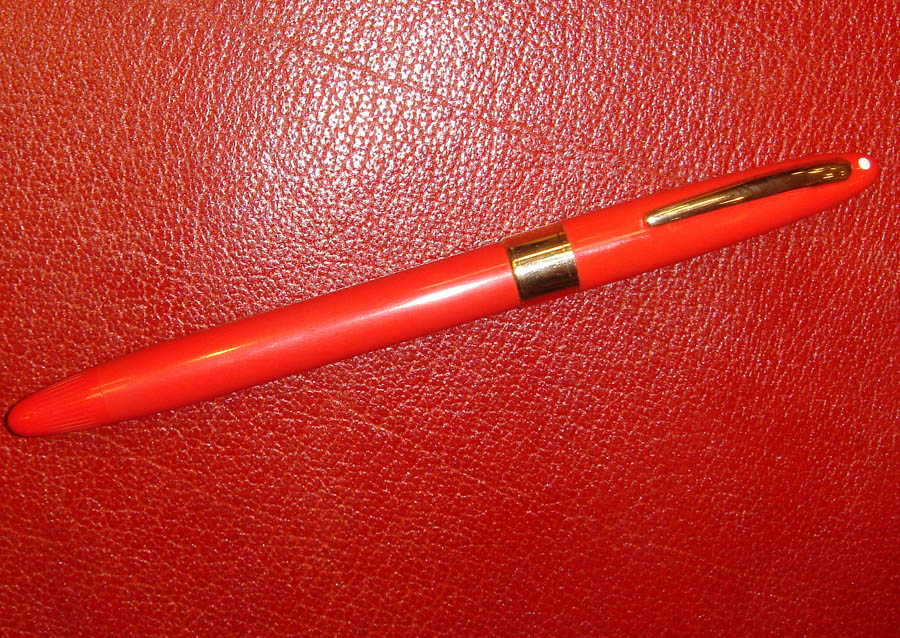 We move now to another case of pens found at the show. This image shows the first 24 or so. Note that the case itself is a lucky find. For years I've wanted one of the Menash cases, cases that look like the many leather 48-pen cases now found, but long out of production (even Menash has not had them for sale... I've asked him) and of better quality than most recent product. The interior is gray, what I consider the best color for pen display. The elastic is adjustable. The cover leather is of excellent quality. A happy find.
Top row:
Sheaffer "Dip Dummy", and OS Balance with no lever and no guts. First I've seen.
Parker 51 English "Presidential". Solid gold 9k. Stunner. First I've owned.
Parker pre-Vacumatic Vacuum-Filler model rare reverse trim, rare ring-top. Rare-squared. Sharp imprint. Gorgeous pen. Maybe better than the one in my own collection
Parker Duofold Senior red.
Sheaffer PFM
Gold Bond OS (made by National probably). Not so common.
Parker Vacumatic Maxima. Emerald Pearl. Very clean
Parker Vacumatic Standard. Burgundy Pearl. Very clean
Parker Vacumatic Oversize, Golden Pearl. Very clean
Wahl Eversharp Skyline. Gold-filled. Lined. Not so common. Clean
Desk pen from Screamer WASP set shown above.
Bottom Row:
Vacumatic Standard Black
Double Jewel Parker 51 Cordovan. Clean
Double Jewel Parker 51 Cordovan. Solid Gold Trim. Clean
Sheaffer sub-brand WASP Clipper "Circuit Board" pattern. Fairly scarce standard girth Blue Pearl wide band lever filler
Very uncommon. long-midget #1-nib Sheaffer gold-filled flat-top in basket weave pattern
Quite uncommon "Sheaffer in non-Sheaffer-Sheaffer shape". Canadian white-dot Sheaffer done in shape not used by Sheaffer, proper, pens in USA, but rather in USA sub-brand WASP pens. I might have world's largest collection of these.
WASP candy stripe gray. Need to figure this sub-brand Sheaffer a bit. it seems higher quality than the usual Wasp Addipoint pens in this plastic. Thread for another day
Pair of sweet Carmine color Sheaffer Tuckaway 1940's pens
Stickered superb Sheaffer blue pencil (uncommon color)
Clean Parker Vacumatic Major in Azure celluloid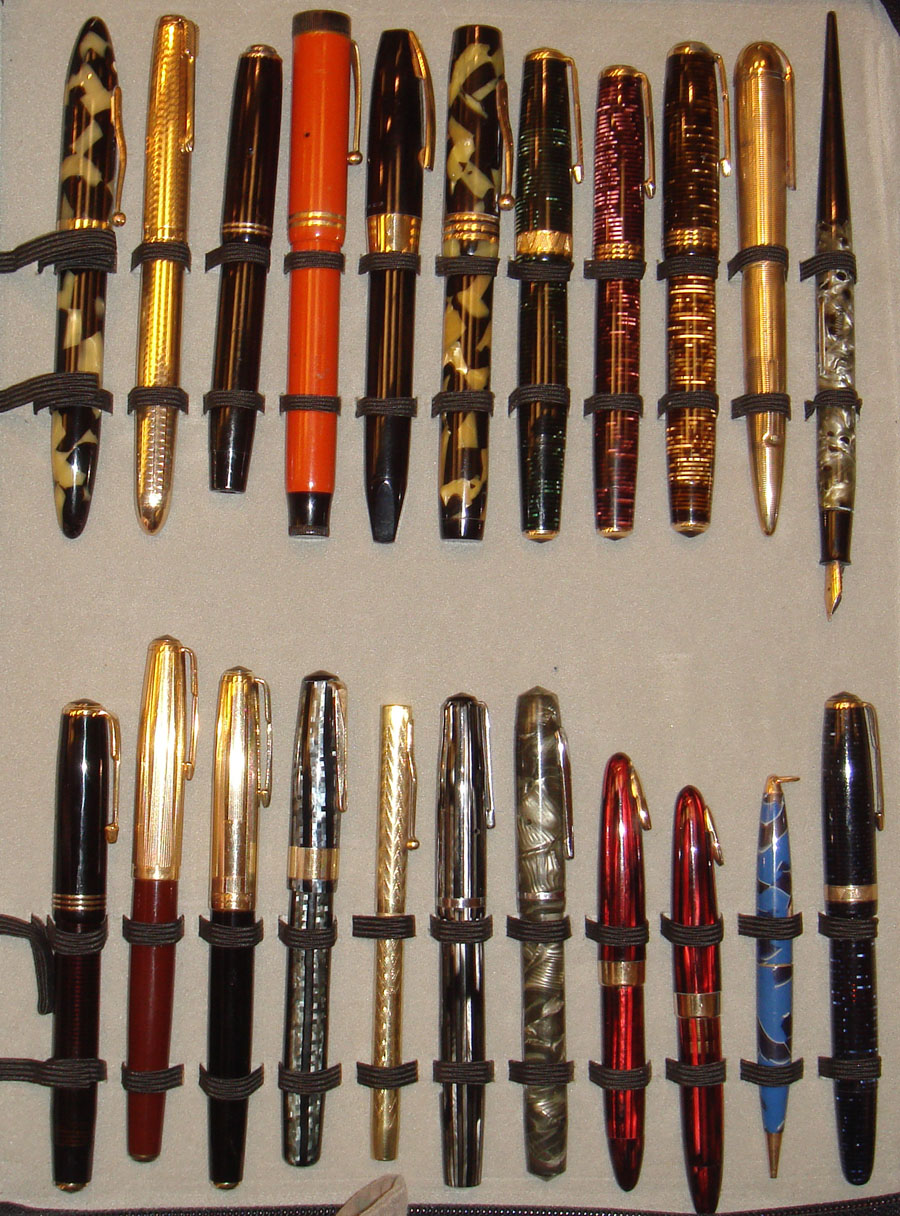 Before we get to page 2 of the Menash case full of new finds, I note great fortune in finding a superb Sheaffer Snorkel collection (yeah, the all-Fiesta was not enough). A collector/dealer who tends to specialize in pricier pens picked up 20 Snorks and sold me the lot. While the high end Fern Green was not quite mint, most of the pens had original stickers and were mint or near mint. Better colors were present. Recalling that many Snork nibs have point codes on them and that some collectors now seek fancy nibs just as some seek scarce colors, I was happy to find that three pens had fully coded flex nibs (and flex stickers on gripping section) and one was marked for Greg Shorthand, with "G" nib code, "Greg Shorthand" sticker and Greg symbol stamped in section.

I was blessed to have Martin Ferguson (a noted Snork collector and restorer) set up at the show. He restored about half the pens for me on site and will finish the rest soon. Thus, I cannot show the whole batch but here are some key players.
Fern is a "top" color. Sage Green (pair) are intermediate colors. Buckskin is an intermediate color not often seen in Crest (gold-filled cap) trim. One gray pen has Flex nib, the other has Gregg nib. No complaints here.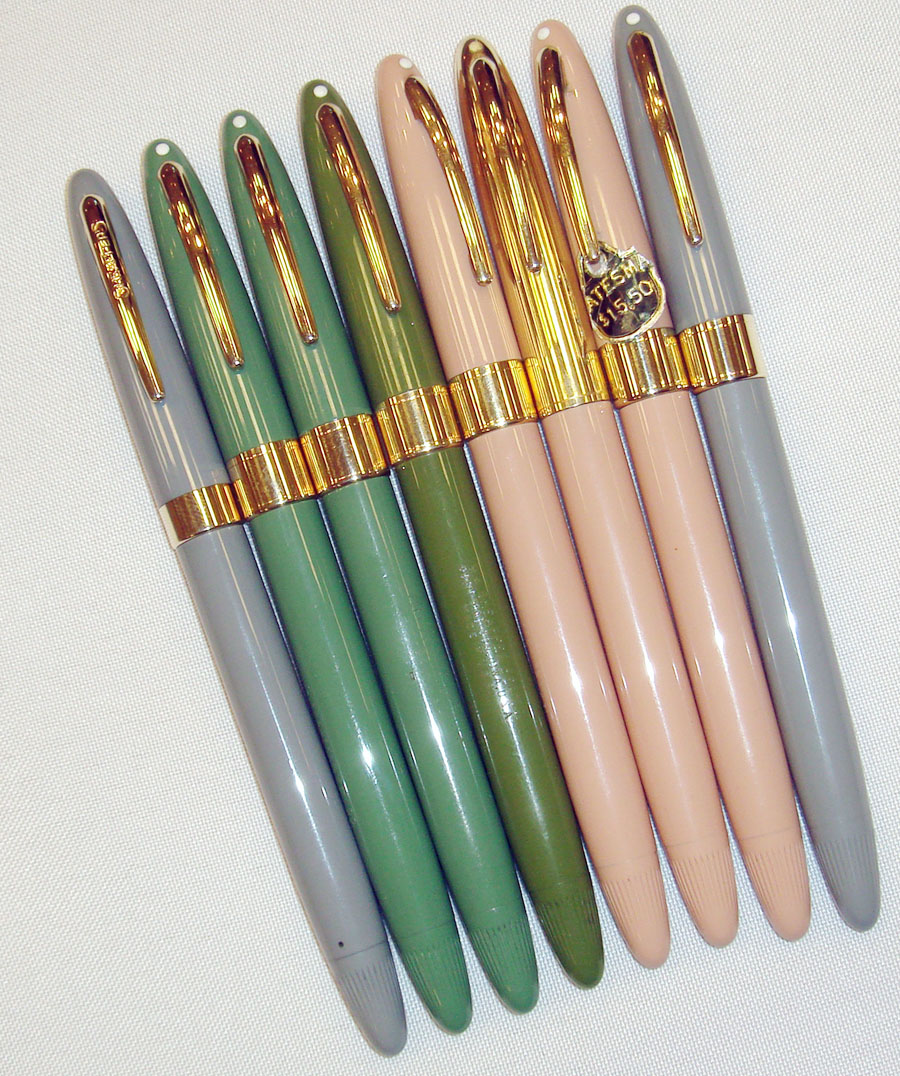 We return to the Menash case, this time on the right side:
Top:
Great Parker Vacumatic (Junior, a full size pen) in Azure celluloid. Clean
Parker striped (1940's) Duofold Senior set in green/gold
Sheaffer Moire Desk Pen. A lucky find (no base with it) to go with one of my Sheaffer-Lenox bases that was lacking a pen.
The best Oversize Parker Vacumatic in Silver Pearl I've ever seen (photo does not do justice). Claims to mint condition. Glorious barrel clarity. Bought in the auction, it will replace the one that has been in my collection for years
Sheaffer Snorkel in high-color Mandarin, purchased with the overwhelmingly rare all-Fiesta shown above
Very scarce off-catalogue double cap-band Sheaffer Balance standard in Marine Green.
Amazing gold-filled Aikin-Lambert (?) thumb filler found in the auction
Parker (pre-Vacumatic) Vacuum-Filler in Burgundy Pearl. Very clean. Two Vacuum-Fillers in one weekend!!!
Sheaffer Balance Gray/Red off-catalogue wide-lined "Jeweler's" cap-band with clean chrome trim. A wee gem
Bottom:
reshoot of 9 of the 1950's British Parkers shown in the first two pictures. Sorry
The best green marble Parker Vacumatic Junior I've seen. Glorious clarity. Probably an upgrade for my collection
Parker 51 vac-fill Demonstrator (1948). nice pen
Parker 51 First Year desk pen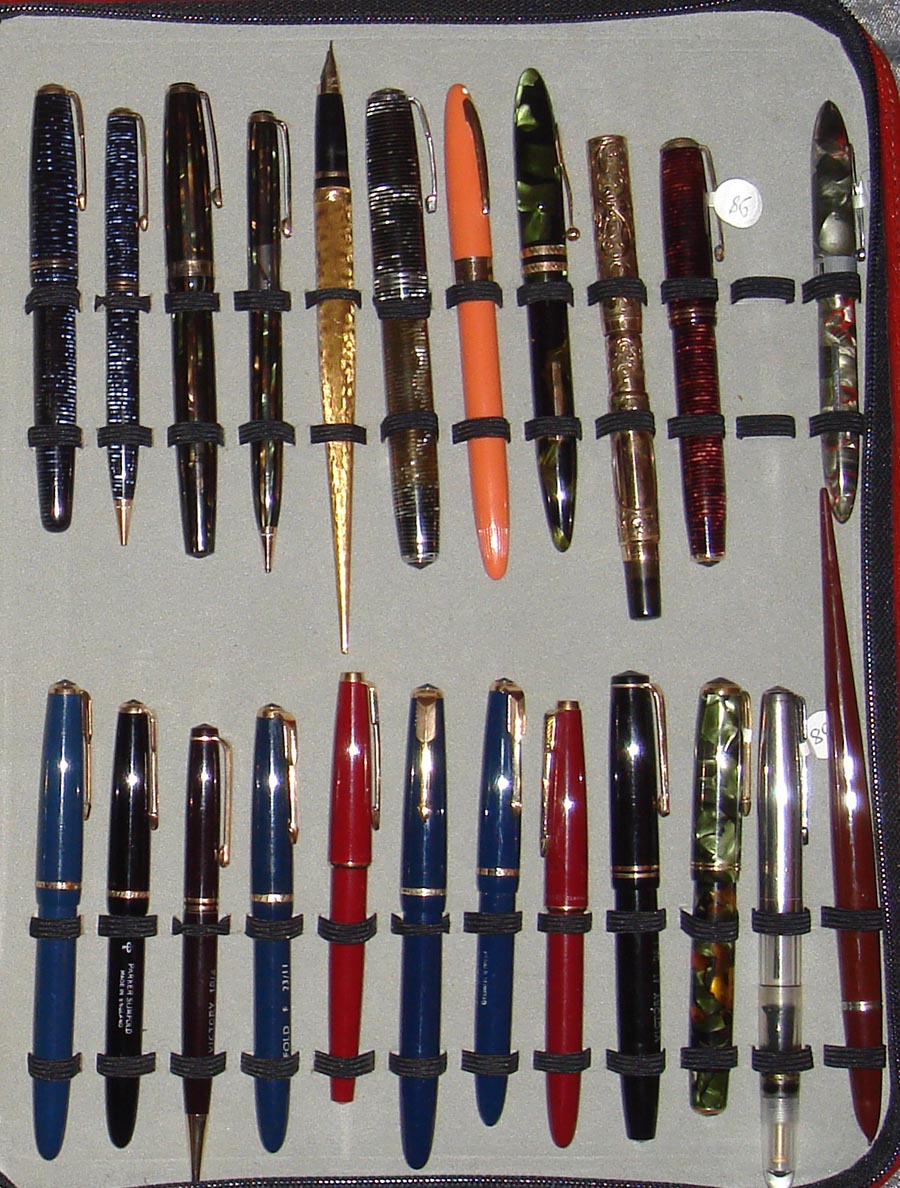 [left]I have skipped some of the part-ish pens, but figured to show this bunch. I had the pleasure to buy 75 slotter trays (probably 600 parts) of mostly mint 1940's-1950's Sheaffer parts. Celluloid caps and barrels, TM Touchdown and Snorkel caps and barrels. Even some mint (and non-mint) Balance parts. I've already put together a couple mint pens from the pile and no doubt will offer some parts online. Oh, yeah... a whole box of mint (some actually unfinished) blind caps for plunger fill Sheaffers.