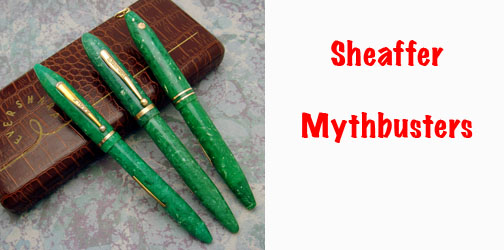 Sheaffer submitted a design patent for its Balance pen in 1928, having created a fountain pen that would set the tone for generations of pens to come. Of note, other brand pens from that era crop up today showing startlingly similar design, including but not limited to the original Equi-Poised, a high line pen by top-flight pen maker Wahl-Eversharp, and a name-unknown model by Eagle, a 2nd tier pen maker which did produce some decent pens. Then... it seems... such pens... stopped. Wahl lost its resemblance to Balance. Parker's competitor to Balance, the newly streamlined Duofold, made a weak attempt at streamlining. Waterman really did not attempt significant streamlining during the 1930's. Conklin released pens with rounded ends but lacking the curved taper of Balance.


For years one of the iconic myths in collectable pendom was that around 1930 Sheaffer sued other pen makers to protect its new design, the Balance, noting that "myth" is used in the academic/Campbellian mode, indicating not falsehood or fairytale, per se, but rather something widely believed to be so, even if it is not definitely so. Collectors routinely reference , allude to, or-- if more careful-- admit to imagining such a case. But, despite our hobby's 35 year existence in organized fashion, despite our hobby being laden with legal types, despite the legal types having access to monstrous online legal history search resources... no one ever had admitted to finding the actual legal cases. Indeed, when asked about the 'conventional wisdom' in this arena, the matter-of-fact references to the 'Sheaffer Balance lawsuit' give way to slack-jawed, zombie-like vacant stares.

That changed last week when Roger Wooten mentioned that he had hard evidence of such a suit, in an FPB thread about Wahl's Equi-Poised. This made him the first researcher to go public with claim to having such material in hand.

Subsequently, I had dinner with an old friend in the patent field. I mentioned the situation while we chatted over sushi and chicken fingers. I was rather surprised (so much for knowing old friends), that she'd worked with BIC/Sheaffer previously and had familiarity with the company. That, accompanied by said friend's skill at patent work, led me to ask for a quick search. Lo and behold... two Sheaffer lawsuits came to light within ten minutes work, and I had hard copy in hand.


Turns out the Wahl managed not to be sued. Eagle, though, and Worth Featherweight-- you don't hear that name every day-- were not so lucky.



First let's peek at the Sheaffer patent.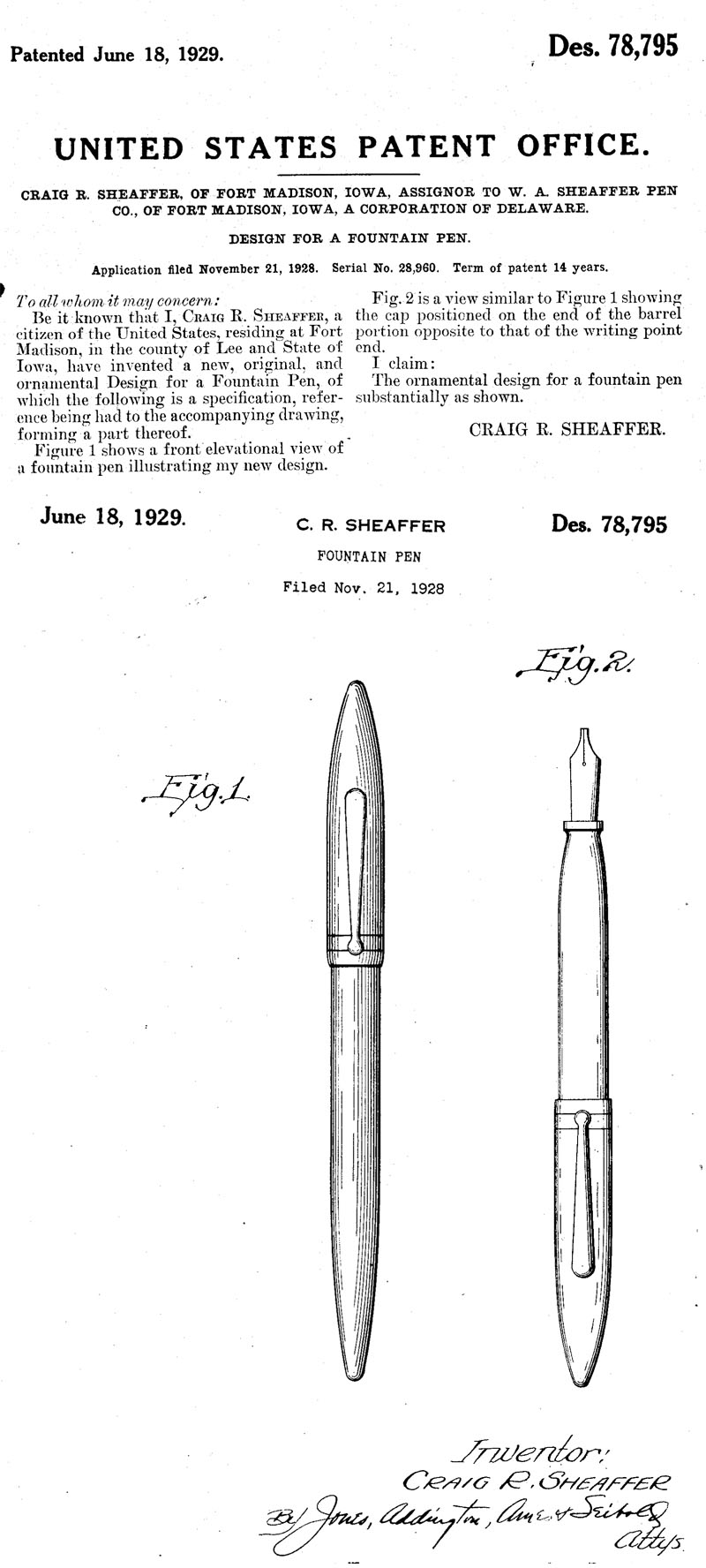 regards
David