Sheaffer's 1929-1941 (approx) Balance model occasionally turns up with an uncommon nib, the two-tone Sheaffer Feathertouch #7. For now we'll skip the even more uncommon Feathertouch #8 nib. Given some of the quirks regarding pens featuring the Feathertouch #7 nib, questions have plagued The Hobby regarding its role in the Sheaffer universe.
SImilarly, a topic of conversation amongst serious Sheafferers has been the existence of Non-White-Dot (Non "Lifetime") oversized Balance pens, given that all the available Balance catalogues (which appear to be all the actual full catalogues produced, based on some later Sheaffer magazine reviews) show all oversized Balance pens as White-Dot/Lifetime.
Definitive explanations for the existence of the #7 two tone Feathertouch nib and for the non-White-Dot oversized Balances have been lacking, certainly explanations backed by hard source data.
I'm pleased to present Sheaffer material that explains both the Non White Dot oversized Balance and the Feathertouch #7 nib
. Amazing what the right piece of paper can do for one's day

First, a brief review of pertinent Sheaffer models and nibs.
Sheaffer's oversized (OS) Balance appears in catalogues in the typical White-Dot form
, with appropriate Lifetime Nib.
Oversized pen, as catalogued with White Dot and with Lifetime nib.

The
long standard sized Balance
is catalogued both as
White Dot (with Lifetime nib) and non-White-Dot (originally with "5-30" nib, later with Feathertouch #5 nib
)
Late era White Dot Standard (long) Balance. Lifetime nib. Monstrously rare in this color with off-catalogue double cap-band

r\Non-White-Dot Standard (long) Balance with 5-30 (early) or Feathertouch #5 nib (late)

However, seemingly off-catalogue non-White-Dot oversized pens have turned up with either the "5-30" nib of the thinner, standard non-white dot pen, or more oddly, with a Feathertouch #7 nib, that is not shown in the formal catalogues for any pen. Here are two "middle era" (1931-1935 release) color oversized pens with such nibs. Now, IF a non-white-dot OS were produced, it would make sense at first thought to find- yes- the "5-30" nib for pens during that era and... perhaps... typical Feathertouch #5 nibs (harvested from later standard size non-white dot pens.
But, how to explain a Feathertouch #7 nib? Worse still for puzzled collectors, the big non-Lifetime Feathertouch #7 nib also sometimes appears in long standard pens, pen which we'd expect to find with Feathertouch #5 nib, as catalogued.
Two oversized NON-WHITE-DOT Balance pens, the Ebonized Pearl being a slightly later color than gray/red. One has a Feathertouch #7 nib, the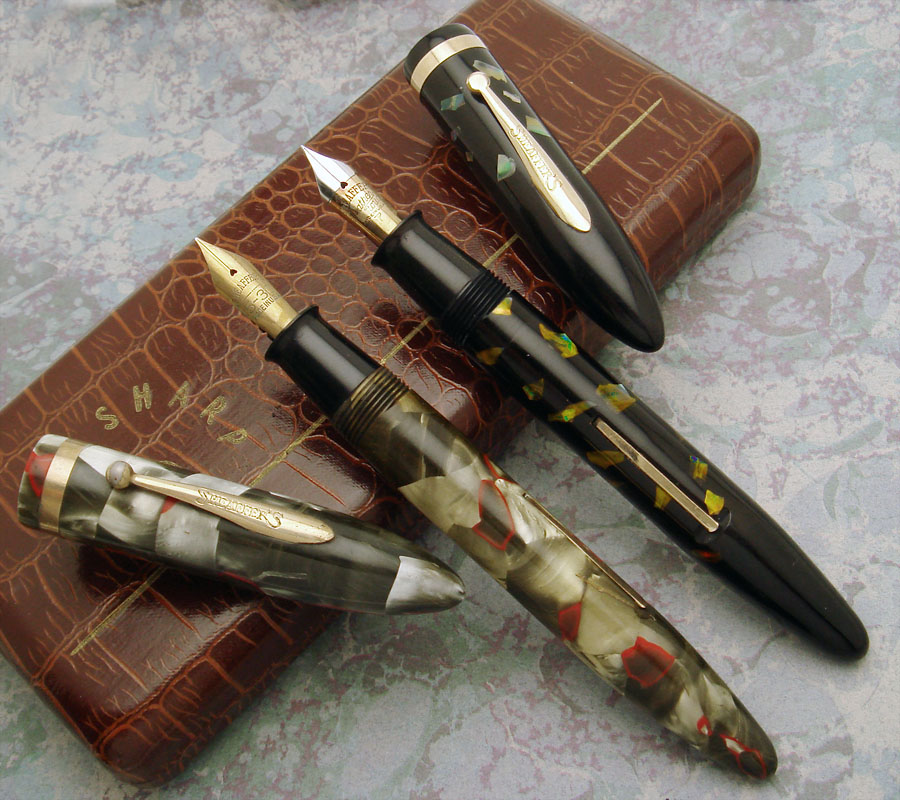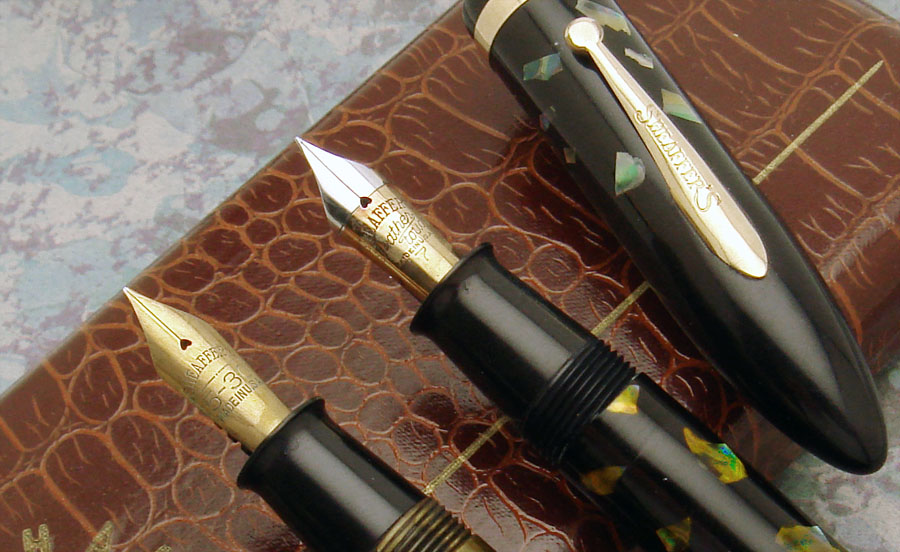 So, what's up with the Oversized and Long/Standard pens found with Feathertouch #7.
Well, the answers to both the Non-White-Dot oversized pens and to the Feathertouch #7 nib can be found in a
1934 dealer pamphle
t.
The page posted below (with highlights in green) provide the key information. Peruse it, then see the summary below it.
1934 Sheaffer Pamphlet for dealers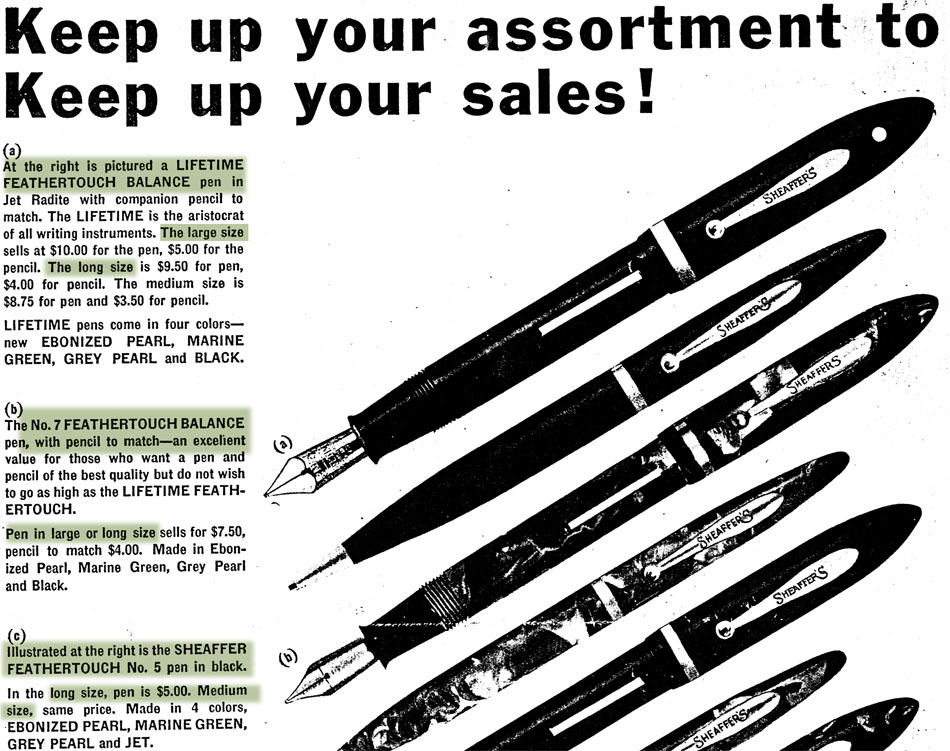 Impression
:
While for most of the Balance run, Sheaffer offered one tier of oversized pen (white dot/lifetime) and two tiers of standard size pen (white-dot/Lifetime-nib and non-white-dot pen with 5-30 nib then FT #5 nib), it seems that around 1934 Sheaffer offered an extra tier Balance both in OS and in Standard.
The extra tier 1934-ish oversized pen was a non-Lifetime model positioned below the common White-Dot OS. It is the "Large" pen referenced for the FT#7 nib in the pamphlet page. It is not unreasonable that the 5-30 nibs found in some of these, generally with "early" colors, represent pre-#7 nib pens meant for same niche.
The extra tier standard size pen with FT#7 nib was slotted between the typical and well documented White Dot pen with Lifetime nib, and the non-White-Dot pen that had either the "5-30" for early pens and FT#5 nib for later pens. The White Dot Lifetime pen was priced as expected at $10 and the usual non-White-Dot pen was priced at $5. The up-scale non-Lifetime standard pen with FT#7 nib hit the middle at $7.50
The #7-Line oversized and standard pens are cited as being available in Black, Marine Green, Grey Pearl (red/gray), and Ebonized Pearl (a new color in 1934) . This is compatible with my experience finding non-White-Dot oversize pens in Gray/Red and Ebonized Pearl. Of note, Saul Kitchener just sold on ebay a standard 7-Line (FT #7 nib) in the later Gray/Black version of Grey Pearl. Assuming the pen does not represent a swap of the nib-section assembly, this suggests the #7-line continued long enough to absorb that 1935 color. In fact, I have vague recollection that Rob Morrison has had an OS gray/black non-WD pen with FT#7 nib.
Conclusion and remaining questions...
:
So, it seems around 1934, persisting at least into 1935, Sheaffer manufactured an extra Balance configuration in OS and in standard sizes. Why did the line fail? I don't know. Perhaps too many options cut sales for each tier, hitting the new #7 line disproportionately. Perhaps those who were willing to spend $7.50 were willing to spend the extra $2 or so to get to Lifetime pen with better warranty. Perhaps those spending $5 for a non-Lifetime standard were not willing to pay an extra $2.50 for the same warranty but a slightly larger nib. While high line modern pens often cost well more than inflation-adjusted values for the 1930's, the parallel situation would be today something along lines of Omas offering an Arco for $600 but offering it with slightly larger gold nib for $900, a 50% bump for no benefit save slighly more impressive point.
We are left with that speculation (other views invited) to explain the short run for the #7 pens.
And, we are left to continue considering the explanation for the rarer still Feather Touch #8 nib, which is about the size of the OS Lifetime nib, and one of which I've found hiding in a true Lifetime White Dot OS pen.
Comments invited.
regards
David