okay, i got a bit crazy again and went all in for two lots of assorted pens and pen parts in two separate auctions online.
one of them, from the US, cost me next to nothing—$20 for the lot, including free shipping. the lot includes an intriguing wooden pen (no, it's not one of those big and pricey 1980s german wooden parkers, but it does seem to have a clip and its maker took the trouble of turning the butt so that the cap should post; might be an interesting bit of folk art); and some vintage caps and barrels, and a box of pencils, nibs, etc.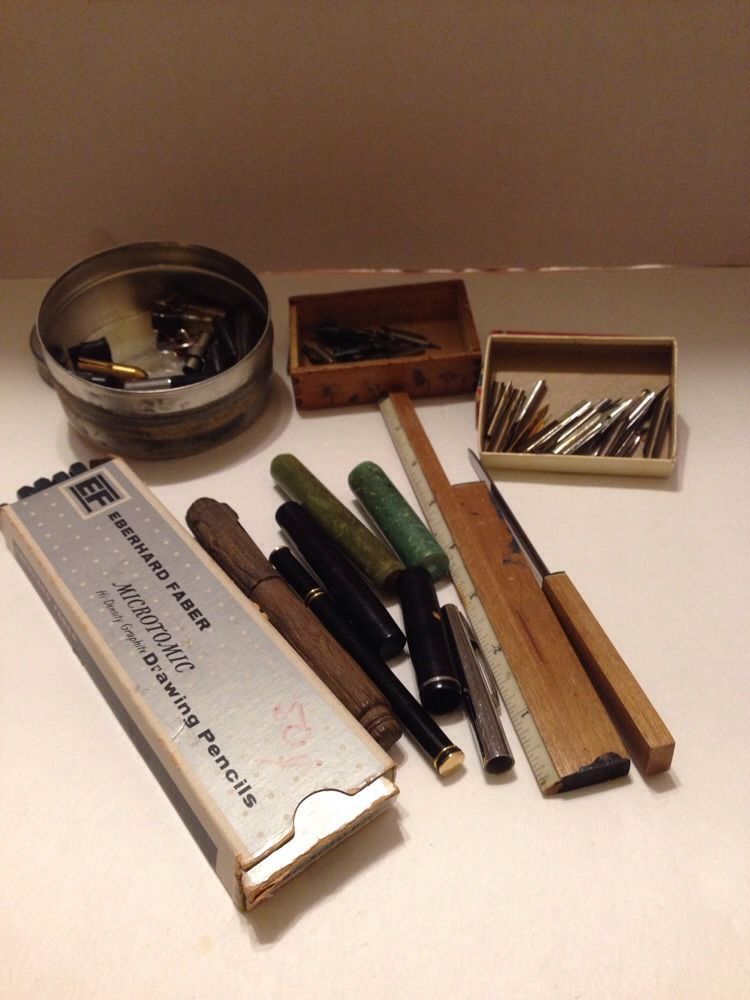 the other lot, from the UK, is costing me quite a bit—around 5 C's when auction premium, taxes, and shipping are all added up, but i'm hoping there'll be some pens there that will all make it worth it. i had only one smallish and grainy pic to go by, and i could see a green sheaffer touchdown (maybe), a blue conway stewart set, what could be a parker 61 (or a DJ 51, hard to tell from just the barrel end, but i'll keep my expectations low and say a 61), maybe a blue parker 21, an english duofold, a silver pencil,and a gold-filled pen i can't make out, nothing special.

but then, in the foreground, is this fat woodgrain pen with what looks to be a wide gold band. this, of course, is what i'm basically paying for, and i don't even know what it is, although it vaguely resembles a swan eternal 48 that i already have; it also seems to have a gold ring around the top of the cap. in any case, i'm a sucker for vintage woodgrain, so if this is a complete pen, with all the parts in there and a good nib and no cracks, i'd be in pen heaven. there's a swan box in the background and a parker one as well (can't make out what the blue one is) and i don't know if there are still pens in them, but i'll assume they're empty.
it's going to be a long month waiting for these pens to come in. meanwhile, speculations are welcome--tell me what you see! (isn't gambling an exhilarating—and a terrible—thing?)