Hi
For my first post I thought I'd post pictures of a recent acquisition of a post-war made in England Waterman pen equiped with an extraordinarily broad stub/italic/oblique(?) Made in Canada 2A nib. I posted this to another forum, but I thought this group might be interested in seeing it too.
The Pen

The Nib. From Uncle Red at the other forum I understand that in the 20's Waterman listed 3 different Stubs and 1 oblique nib in their catalog but didn't explain the difference between the stubs. If anyone knows the actual inventory description of this nib I would be really interested to know
The Nib is Marked "Waterman's Ideal 14KT Canada 2A" At the right edge it is also marked "F.D.W." It is nicely tipped and, while broad across the top, it appears to be oblique. It has a fine side on profile which suggests (perhaps) it is an italic nib.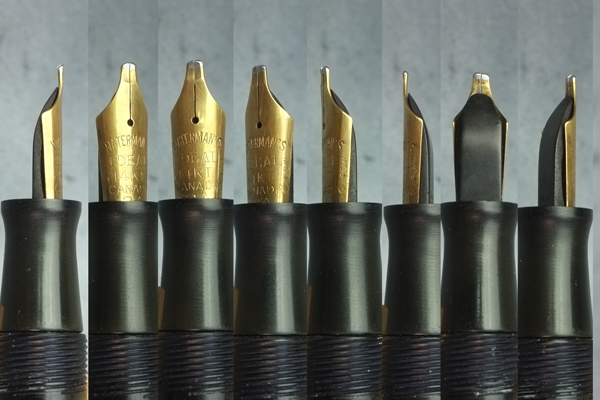 A sample...The nib is around 2mm broad at the tip and lays down a line of around 1.2mm on the broad stroke. The writing sample (on paper with 5mm squares) shows the line variation of the stub. But, being new to oblique nibs, I struggle to get the correct alignment of the nib to the page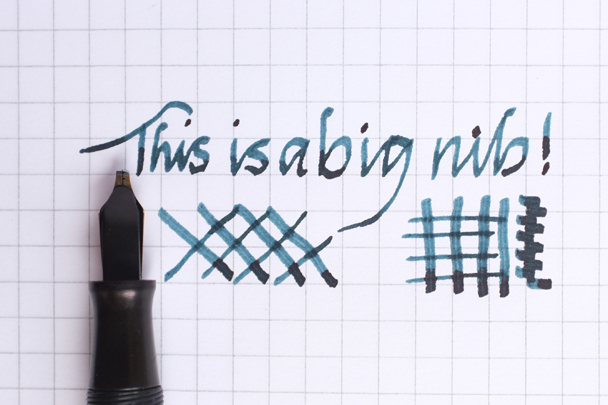 I hope that was of interest to you and if anyone can provide any further information about the nib - it would be gratefully received
Thanks