Wahl's Skyline series saw many variants. All have a clip that runs over the derby (top piece) of pen. That top piece is threaded and thus removable. Here are couple examples.

above: gold-filled cap, solid injection-plastic barrel
below: Modern Stripe ("moire") celluloid set.

Wahl also made a lower line Skyline-like pen called Streamliner. At first glance it looks like a Skyline, but note the clip does NOT wrap the derby. In the pic to follow, Skyline instructions are included but pen set is stickered "Streamliner".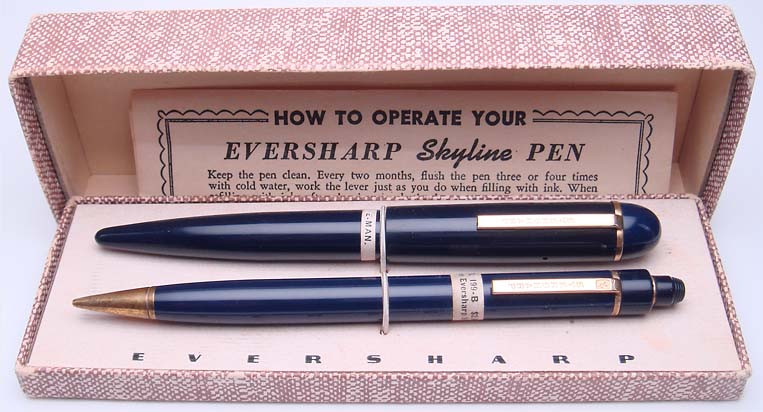 A post on the Zosslist today cited an ebay ad offering a Modern Stripe ("Moire") pen which appears to be a Streamliner (clip is non-wrap variety) rather than Skyline. The ad calls it a Skyline, but hey no one has perfect knowledge

To best of my knowledge (and I suspect, to collector convention) Moire pens are known only as Skyline, not Streamliner.
The derbies are removable, and a derby/clip swap seems at least possible, though that does not prove it occurred in this case. I cannot quite make out derby color to see if it obviously was a mismatch. In any case, I pulled the images from ebay, montaged them, tried to clean them up a bit , and offer them for consideration. I don't quite buy the "early pen" claim/speculation from the ad, mainly because I have no information to suggest non-wrap clip is "early", as evidence is out there that the clip indicates the different series (Streamliner), not production date.
Ad link (noting ebay purges old ads, so in few months this won't work)
http://cgi.ebay.com/...#ht_2460wt_1109
So... a Modern Stripe Wahl Streamliner (non Skyline)????