Hi, all, and welcome to a gotta raise cash sale. The following is some personal thinning. I've tried to keep prices to a minimum. First definite "I want it" gets it. Paypal is preferred. All prices exclusive of postage. Send me a PM or contact me at sjcoek@yahoo.com. Please forgive any poor pics; I tried my best with my camera, but Ansel Adams I ain't! Some good everydays here, and remember…Third-tiers need love too! All questions and reasonable offers are welcome, and thanks for looking.
(left to right)
1) Parket Duofold MP, green & blue pearl striated celluloid, GP clip/bands/cone. Black jewel, personalization on cap, appears t work but may need some tweaking. $18
2) Rotring Rive FP, black textured plastic, steel Rotring nib that looks like an M. Cartridge filler. $22
3) Lot of 4 Argentinan-made Perfecta FPs in 4 colors. Grey plastic caps qwith metal clips, steel semi-hooded nibs that look like Ms. Cartridge fillers. $22.
4) Lot of 8 third-tiers. Includes Waltham green pearl combo, Wearever turquoise pearl combo, Waltham blue pearl combo, Champion brown swirl combo, Wearever aqua semi-hooded nib, Ferber cartridge filler, Arnold red pearl FP, and Arnold grey pearl FP. All are complete and need new sacs. Fun lot. $26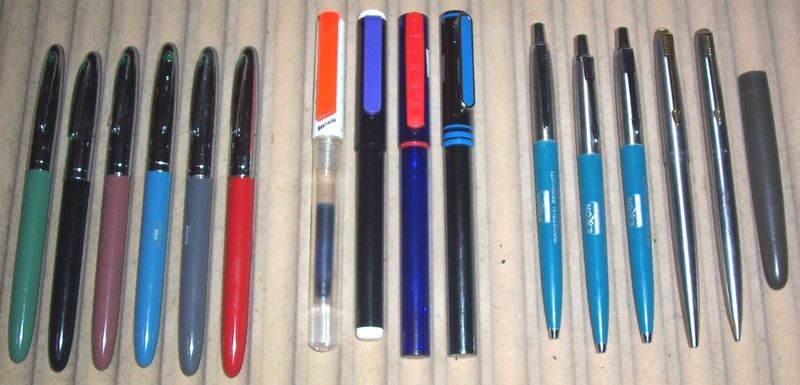 5) Lot of 6 Venus hooded-nib FPs in 6 colors. Chromed caps & clips, GP hooded nibs that look like Ms. Unused with nib sticker still on barrel. Cartridge fillers. $25
6) Lot of 4 European pens. 2 French Stypens, French Reynolds, and German Reform. All have steel nibs that look like Ms. Cartridge fillers. $24
7) Lot of 6 Parkers. 3 earlier Jotter BPs with Exxon imprint, 45 flighter BP with GP clip and top USS imprinted tassie; 45 Flighter MP with GP clip and dished tassie, and grey VS barrel with blind cap and button. $33
8) Lot of 6 MPs. 4 Sheaffers, 1 Waterman, 1 Durolite. Some working, others need a little tweaking. $24
9) Lot of 6 converters. 1 each Parker, Waterman, Cross, plus 3 unbranded. $23