Early Sheaffer vac-fil pens have an interesting "gothic arch" look to the blind caps because they are made of small square rods of colored celluloid with a thin black layer between each square. The vast majority of blind caps and desk pen tapers are made from a sheet of striped material wrapped/stretched over a black core. Sheaffer must have had a bit of this early rod stock left over as evidenced by packing units made of it, which Gerry Berg has posted here or on Zoss, and by this wild desk pen that was on ebay last week (sadly, my bid came in 3rd).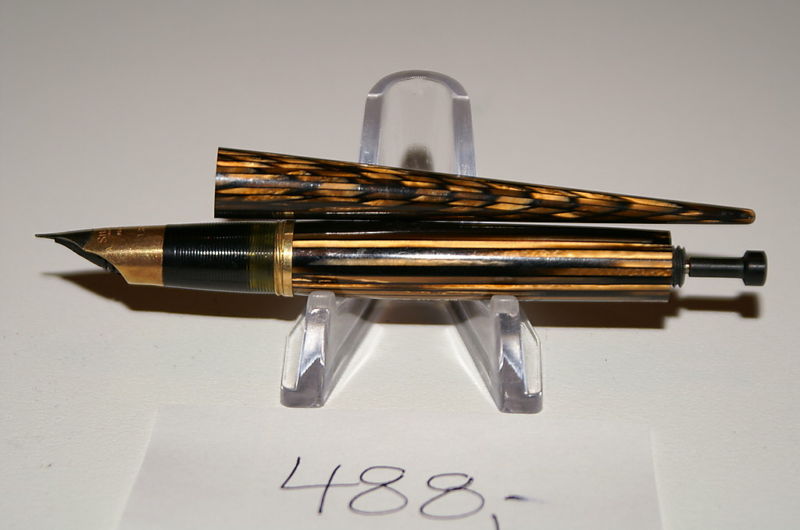 To me, this pen is about as late as one can get in Sheaffer's celluloid era. There's the non-Lifetime serial-numbered nib, the visulated section internal-tube filler, and the opaque barrel. (The first internal-tube fillers had barrels w/ about 3/8" of transparent barrel stripes - the remainder of the barrel interior is painted black, then the entire barrel interior is painted black, then the 3rd variation is opaque plastic, as above, same as the cap material.) Someone also appears to have made the decision to use up the leftover blind cap rod stock at this point; might as well, if the switch was being made to injection molded plastic.
I think I've also seen this plastic used on pencils, but they were earlier, pre-WWII, if I recall the clips correctly.