Pen shows are great events. You find things you never expect to see, you have opportunity to fellowship with other collectors, You even get to ask questions, such as " What does BPCLEIANECSTKOY stand for? " or "Why did my breakfast cost $72 at the hotel restaurant?" or "How long into the wee morning hours should you look at pens, before your family reports you a missing person to the local police?"
Good Times!
I love going to pen shows, I like the opportunity to meet new people, I like to share time with old friends, I like being able to go out and share dinner with friends that share my interests. I like spending time in the pit, Being shown how to cut my first "good" cigar (Thanks John!!!) If you never go to one, I hope the following might give you reason to consider attending.
I spoke with a certain long time collector and one of the founders of the Chicago pen show, most recently at the Washington DC pen show. In an issue of Pen World in the early 1990's he spoke then of hopes and dreams of finding a Chilton wingflow with his initials, and even as of this past Saturday, the search is still on. I found it fascinating that as many years in, he was still hopeful and optimistic of finding an example.
I am hesitant to use the word unique, but I definitely think the following pen falls into the category. I was doing some foot time on the floor on Friday, and came across the most significant example of a Chilton wingflow to ever be discovered in the world of pencollectordom.
Wingflows were offered in numerous inlay patterns, and several base colors, as well as a series of secondary "carryover" colors. Most often seen in black, and occassionally in burgundy, any other color is onsidered uncommon, or rare, with flavors that include cherry red, and midnight blue. The highly sought after colors include carnelian, gray pearl, marine pearl, black and pearl, and peacock.
Chilton offered on any pen of $5 or more, to inlay 3 initials for the user at no extra charge. This was often the case, people took full advantage of this promotion, and you find many examples of pens with the original owners initials inlaid in gold fill, into the barrel of a pen.
The fun part of collecting fountain pens, is hoping that someday you might encounter a pen with your initials or name on it. Recently, I was able to come fairly close, in acquiring an early gold filled Sheaffer with the initials "C W K" on the barrel. (mine are CRK... anyone got one? )

Close, but no cigar. I liked the pen thoroughly, to keep it. I like writing with the pen, and the nib, a Sheaffer self filling 3, is a terrific specimen.
Funny, that as a third, you would think that my chances are a bit greater, maybe if I found said pen, I could pass it on to my son. After all, he's the fourth, I am sure he would appreciate the effort and time it took me to find a pen. If you were at the DC pen show, you might have spied Charlie, playing games on either my Iphone, or his Ipod, depending on whether he wore the battery dead or not.
In 1936, the Diamond Crystal salt company celebrated it's 50th anniversary. (The company was founded in 1886 by John and Louis Alberger, Charles Moore and Horace Williams. The group came up with a method of producing salt crystals with more facets, and this somehow made the salt more user friendly.) While this is all well and good, the company decided to offer their employees a special gift to commemorate the occassion. Each employee was given a new Chilton wingflow in burgundy, with a special plaque on the back of the cap, noting the company's diamond anniversary.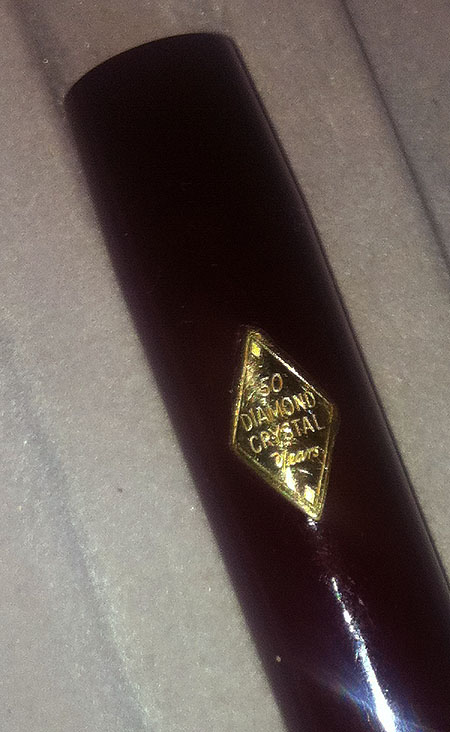 Along with this, each employee received a pen adorned with their initials. These pens often turn up, it is a best guess to figure Diamond Crystal employed a considerable workforce in 1936.
Here, I offer the most spectacular specimen ever found of a Diamond Crystal salt company 50th anniversary pen., It is in the proper burgundy, with an employees initials inlayed into the barrel. Unfortunately not mine, but I cannot think of a better example to own, or have in my collection of Chilton pens. It surely is unique, priceless, and the rarity of this pen, it seems impossible to put a pricetag on an item like this.

I am eager to ask the company if they have any records from the time period, perhaps an old employee roster, to lead me to figure out who this person was, What their name was, or maybe some additional information on who they were. I am sure they invited trouble every time they initialed something.