Hi,
For those new to the theme, Combos (fountain pen and pencil in one) were a late 1920's-early 1930's fad, and far more are found from third tier makers and thus of low quality, than are found quality and/or big name examples.
Aikin Lambert by the late 1920's is believed to have been owned by LE Waterman. Pens turn up with features suggesting a Waterman connection, and while generally the pens are of good quality, often they are found with disproportionately small nibs indicative of 2nd tier status within the Waterman hierarchy. Some have quite lovely colors.
I've never seen an Aikin combo prior to stumbling across the pen featured in this post, a pen that turned up in the "1000 pen hoard" i picked up last summer. That collection featured some nice pens, one overwhelmingly great pen, mostly weak pens, and a number of interesting-- though not high value-- pens.
This one is of good quality, with fairly clean chrome trim and with sharp imprint.
Unfortunately, while one might expect a link between ambassadors and The Capitol, the Ambassador cap on this pen appears to make this combo a frankenpen., as Ambassador is not known to have had an Aikin connection. The color match could be worse. Whether an Aikin cap in this plastic can be found indeed is a great uncertainty.
But, the pen is interesting just for being an Aikin combo. I don't examine every combo I spot at pen shows, and no doubt my focus on Aikin is not as strong as on some other pens, but that this is the first Aikin combo I've... noticed... makes it interesting to me.
Anyone have anything to offer about Aikin combos?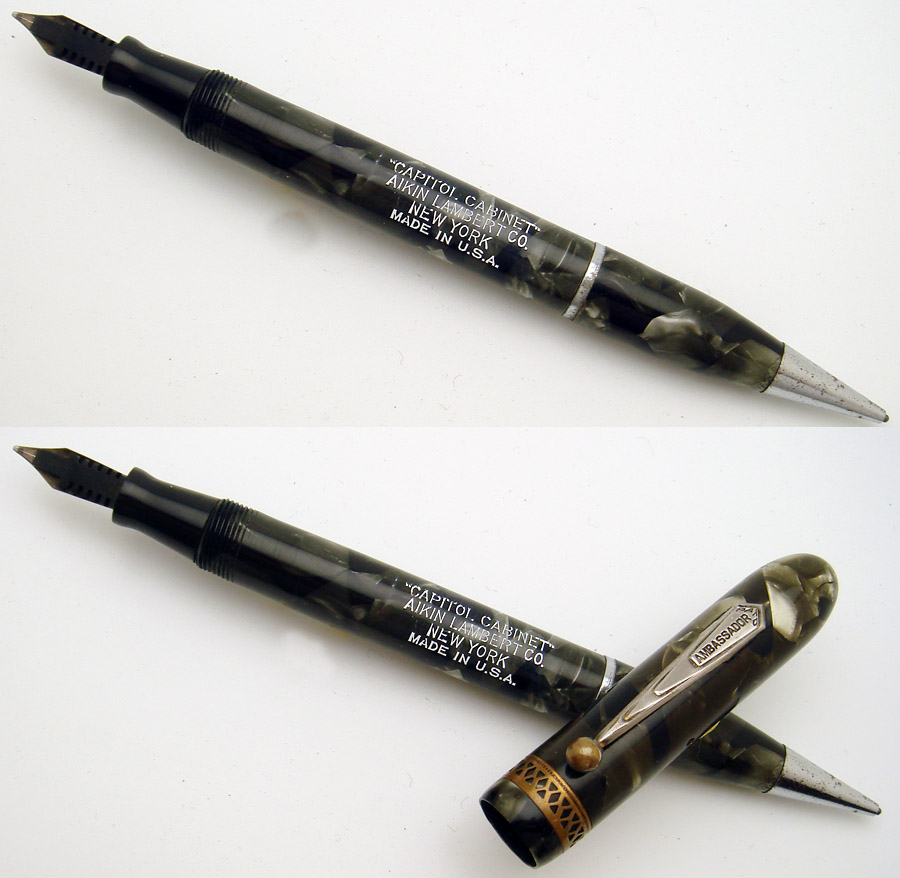 regards
david