It is my pleasure to offer images of a 1951 Sheaffer Thin Model Touchdown pen that appears to violate expectations based on this series' catalogue appearance. Words such as "prototype", "experimental", "transitional", and "rare" are inflammatory in the circle of serious pen collectors, seeming bandied about with casual abandon in discussion and in particular in sales offerings. A running joke is that any pen unfamiliar due to one's own ignorance gains lofty cachet when those magic terns are ascribed.

So, when examining a seemingly anomalous pen, one should consider whether he who cites it has enough familiarity to know that something truly is awry.

We'll have to see if I do.

I never set out to collect Sheaffer's Snorkel, and by default the related TM TD. Happened by accident. I found a few big collections. I started selling the pens. Wrote a profile. Found some good literature. One thing led to another. I sweeaaar.... it was all an accident.

So, let's explore Thin Model Touchdown and Snorkel just a bit, then consider a special pen just found.

Sheaffer introduced Touchdown in 1949, replacing similar looking pens that used the earlier plunger mechanism that had been found in Sheaffer pens since 1934 or so. The TD (touchdown) pens were chunky things manufactured for just two years or so before giving way in 1951 to Thin Model Touchdown (TM TD), which lasted just about a year before being replaced in 1952 by Sheaffer's vaunted Snorkel, which ran through the end of the 1950's and which is widely collected today.

TM TD (Thin Model Touchdown) very much resembles Snorkel, which replaced it. But, there are differences.

Similarities

Both have similar contour.

Both feature plastic and metal cap options

Both show a metal Touchdown tube when the blind cap is drawn from the barrel

Both feature a smooth clip for White Dot models and clip marked "Sheaffer's" for non-White-Dot pens.
Differences
Color range varies for the two lines

Characteristics of White Dot (high line) pens are not the same for both series, regarding nibs associated with white-dot and non-white-dot models.

TM TD is a bit shorter in barrel than Snorkel

Plastic caps for TM TD has a flush white dot, while Snorkel's dot is raised.

Gripping section for TM TD is visualated, while Snorkel's is opaque
TM TD in Green

Snorkel in Sage Green

1952-9 Snorkel is catalogued with a metal cap-- Non White Dot-- that does not appear in the 1951 TM TD catalogue. The Snorkel Sovereign has white metal cap


A couple most unusual 1951 TM TD's have turned up with a somewhat similar cap-- again not shown in that 1951 catalogue-- having similar pattern, but with the White Dot, and also with the smooth clip that goes with white dot models.

I've seen occasional discussion about this odd TM TD. I vaguely recall one claim that the cap represented a late development in the very brief run of TM TD. I have not seen documentation to support this.

I was contacted by a pen friend from overseas when such a pen popped up on ebay. WIth the sale offered only to USA-based customers, he asked if I'd bid for him. As I had not yet seen the pen and had not set my own pen I agreed. Won the pen quite cheaply.



The TM TD pen with cap not shown in the 1951 catalogue... arrived today. It has an added surprise

.


Not only does the green TM TD have the white-dot cap similar to Snorkel's non-White-Dot cap (as seen in blue pen above, but note the white dot and clip difference), but the green is not "Green" !

This pen is Pastel Green, the green seen in Snorkel, not TM TD.

Snorkel offered Pastel Green, Sage Green and Fern, unlike TM TD which is shown in a rich dark green (named... Green) that was carried over from regular (non-Thin) Touchdown.

This is the first TM TD I've seen done in the Snorkel Pastel Green color.

A very serious pen.

Transitional?

You make the call

Image 1: Pastel Green TM TD (correct in barrel length and visualated section lacking Snork tube). Shown open and closed.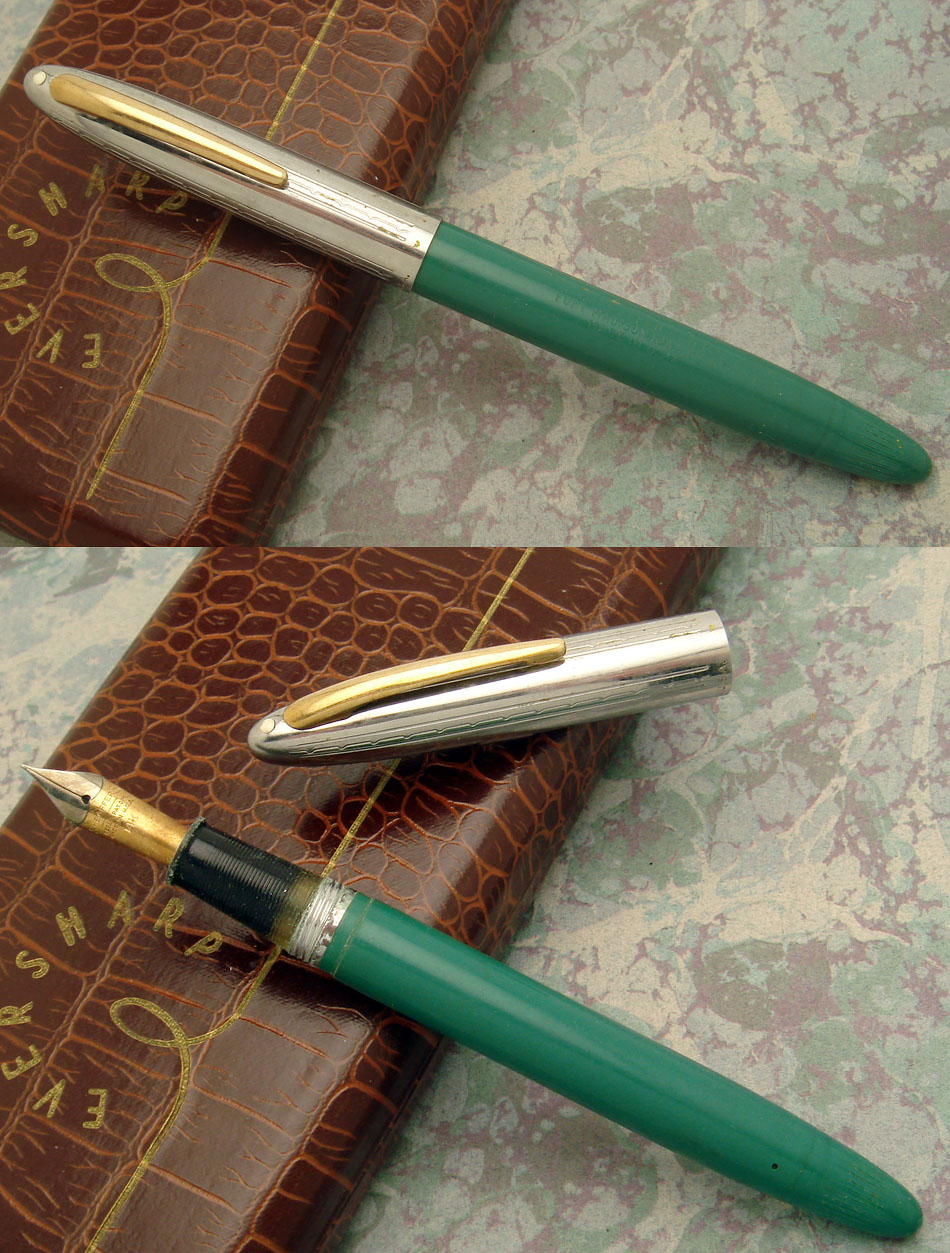 Image 2: Two TM TD pens, showing the anomalous pen with white-dot version of Snorkel's non-white-dot cap and with Snorkel Pastel Green color, next to a typical TM TD in TM TD's green color.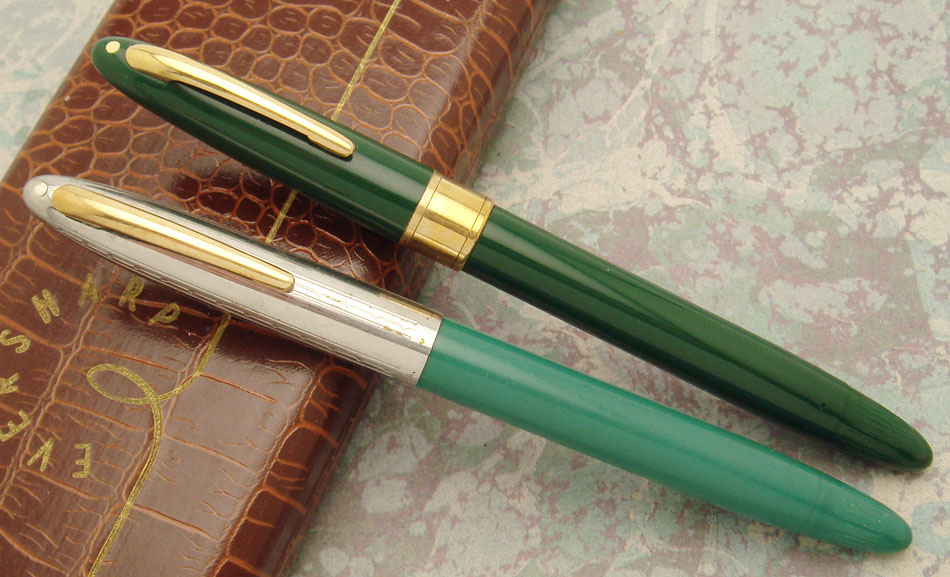 Thoughts?


regards

David