We recently had a multipage thread about Sheaffer's 1940-1951 Tuckaway series short pens characterized by frantic evolution and by nomenclature that only sometimes reflected the full-length pens to which they were connected.
You can see that thread (link take you to page-2, which has the "final" list showing dozens of models)
http://fountainpenbo...me/page__st__20
The Tuckaway series was in its waning days in 1949 when Sheaffer released Touchdown pens, replacing the plunger filler that dominated the last decade. A key change for Touchdown in general was the blending of the full length Sovereign and Statesman models from the prior years into Touchdown's Statesman model with elimination of the Sovereign. Sovereign had been an open nib pen $8.75 same size as the Triumph nib $10 Statesman. But, for 1949-1950 during the Touchdown era, only one pen was produced, with open nib like Sovereign, but with $10 price and with Statesman name. The Touchdown Statesman was longer than the earlier Sovereign and Statesman pens.
The short Tucky versions of these pens followed similar course. What should be a "
Statesman Tuckaway
" in 1948 had name just
Tuckaway
, itself having switched name from the prior 1945-7
Tuckaway II.
What might have been better named "
Sovereign Tuckaway
" in 1948 actually had name
Lady Sheaffer
(
yeah, Lady Sheaffer, not Lady Tuckaway
)
In 1949 the Tuckaway that reflected the full length Statesman (itself a blend of prior Statesman and Sovereign), kept the name
Tuckaway
. Makes sense. The Statesman and Tuckaway were parallel names for the long and short versions of 1948, and the fusion of styles in 1949 took the name and price of the more expensive model.
So, some of the Tuckaway models (model, not the whole series of same name) have bigger nibs than others, some hitting about the size of earlier oversized Balance, making for a massive nib in a stubby pen. But others have smaller nib.
When i noticed this in passing, I'd wondered if I was comparing accidentally injection-plastic Touchdown 1949-50 pens to similar looking Lady Tuckaway from 1948. But, not. Recently I pulled a few pens. All are Touchdown, thus 1949-50. Seem to have same name when tags and stickers found.
So... anyone care to explain why the 1949-50
Tuckaway, proper,
(short equivalent to Statesman), turns up with different size nibs?
Here is a pair of 1949-50 TD Tuckaways for comparison. Green pen has well more massive nib.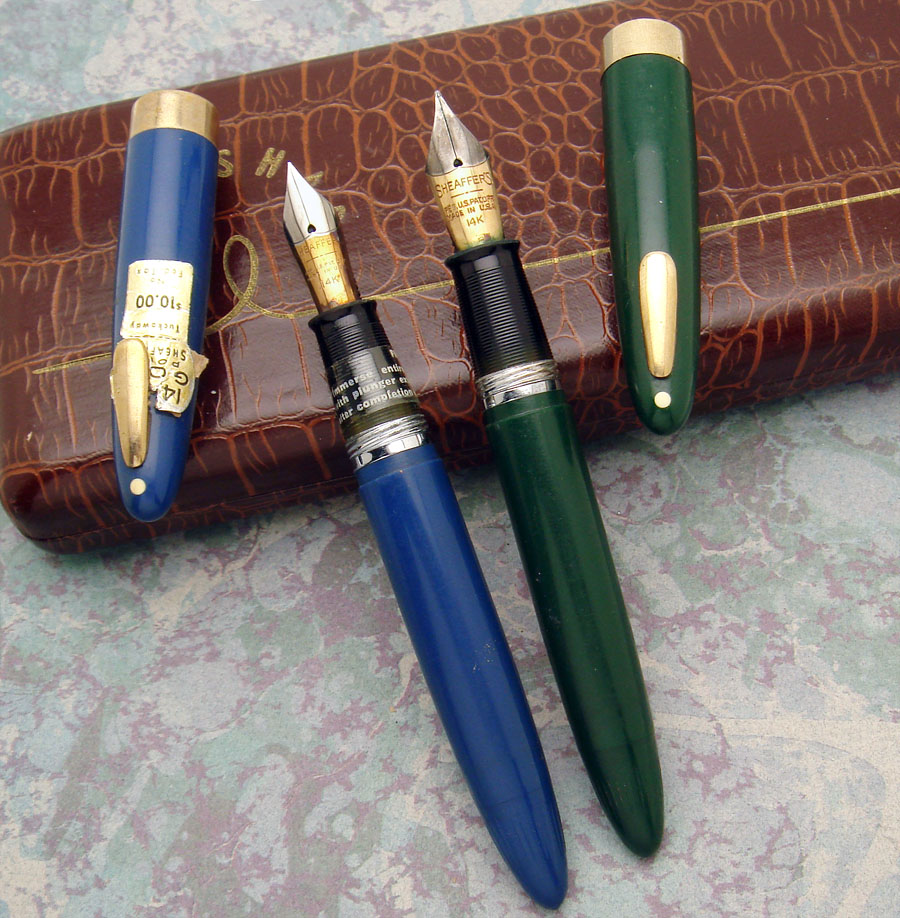 regards
David