Regular Saturday sale, here it is... mixed bunch, all working unless specified.

First email that says "I want it" gets it... email me at ckrantz3@msn.com No personal messages, replies to threads, etc...

Paypal payment expected in a close proximity to when you claim it to when I tell you it is yours. If you do not have arrangements with me, I will sell it to the next person that inquires. Sorry, too many people are trying to claim stuff then vanishing for hours or days. I monitor emails all day.

Shipping:

$3 domestic first class
$7 domestic priority
$10 international

well, that's about it... here we go... from left to right...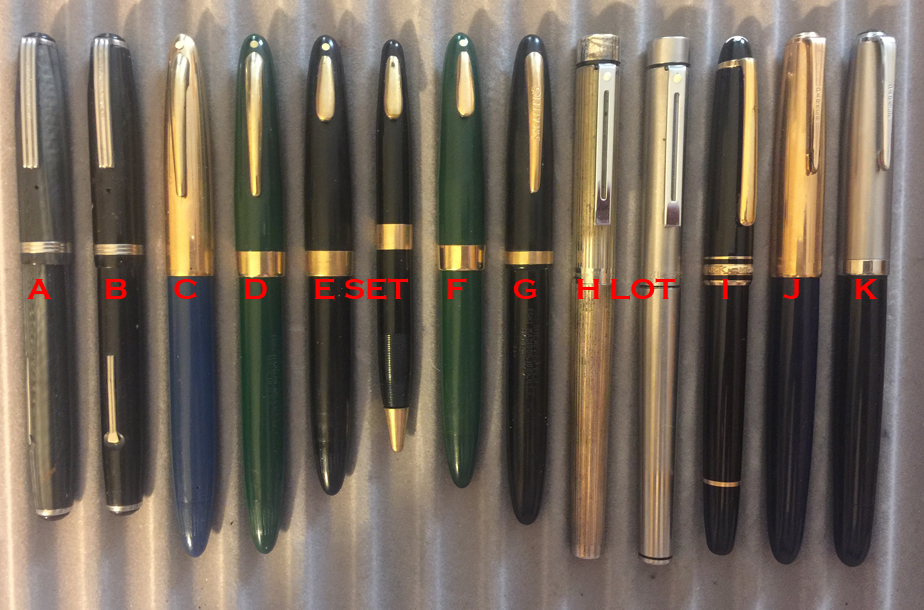 A Esterbrook SJ in dark gray, lever fill rebuilt, really attractive pen, 9668 nib. ITEM PRICE $30 SOLD
B Esterbrook SJ in black, lever fill, rebuilt, 2998 nib. ITEM PRICE $30
C Sheaffer Fat TD in blue with gold filled cap, large 14k two tone fine conical nib, cap has a few dings on top, clean pen otherwise, great user. Rebuilt, fills, writes. ITEM PRICE $70 SOLD
D Sheaffer Fat TD in green, large two tone 14k fine non conical nib. Rebuilt, fills, writes, This pen saw little use, it's quite clean. ITEM PRICE $75 SOLD
E Sheaffer TD Tucky set in black, clean set, nice fine 14k two tone non conical nib. Rebuilt, fills, writes. ITEM PRICE $65 SOLD
F Sheaffer TD Tucky in green. Clean pen, 14k two tone non conical medium point, rebuilt, fills, writes. ITEM PRICE $40 SOLD
G Sheaffer 350 craftsman series pen, lever fill, I sell a ton of these, great economical pen that offers a lot of value. 14k Sheaffer 33 fine point nib, writes nice, clean pen. ITEM PRICE $30
H Sheaffer Targa project lot. The flutted Sterling pen is a felt tip, in nice shape, and the stainless pen has a bent alloy nib, I think could be straightened. Both pens, one lot ITEM PRICE $80
I Montblanc ballpoint, capped not twist action pen, montblanc refill threads in, I am very sure this is not a fake. Clean, get one on the cheap. ITEM PRICE $65 SOLD
J Parker VS in blue gold filled cap. Button filler, rebuilt, fills, writes, clean pen, correct Parker VS series nib, medium point. ITEM PRICE $85 SOLD
K Parker VS in black, metal cap. Button filler, rebuilt, fills, writes, clean pen, correct Parker VS series nib, fine point. ITEM PRICE $75