Conklin 1930 Endura Symmetrik, Leaf Green Celluloid, Oversized. A "Happy David" moment. This is some of the Raleigh Pen Show booty, shot for the first time today, not dredged from the archives. This one is a bit special for me, and is one of the 4-5 pens from amongst the 150 found at Raleigh that will enter my personal collection. Conklin was a "Big Five" pen maker in the 1920s-1930s. I recently bought an impressive collection of 20 pens (found at the LA Pen Show).
I probably have 20-30 also resting in my personal collection. I've been considering tightening the collection a bit. So figure I add one to it. So much for trimming the collection. The OS Symmetrik is a massive thing. The photo shows it next to a full length slender sub-Symmetrik pen (Dawn Pearl, at left, 5+ inches), which it dwarfs. Leaf Green was used in main-line pens only by Conklin, though kudos if you know at least one other place the color popped up. As a green Celluloid it is at risk for hefty discoloration. I owned an OS in this color my first year or two pen collecting, found on ebay. back around 1999. Darkened nearly to black and with a hairlined nib, I eventually sold it as a user.
I've always liked the color. I hunt "Jade" Celluloid green pens with perfect color. Finding a Leaf Green (black veined bright green) with superb color is a hard task.
This one popped up at Raleigh, courtesy of Mark Hoover. It is a gem, with excellent color. I know where he found it, also a good source of old pens. What could I do? I bought it. Recognizing all the caveats, I still note not having seen one this nice the past 15 years. It's nice to know I can still enjoy adding old pens to my collection here and there.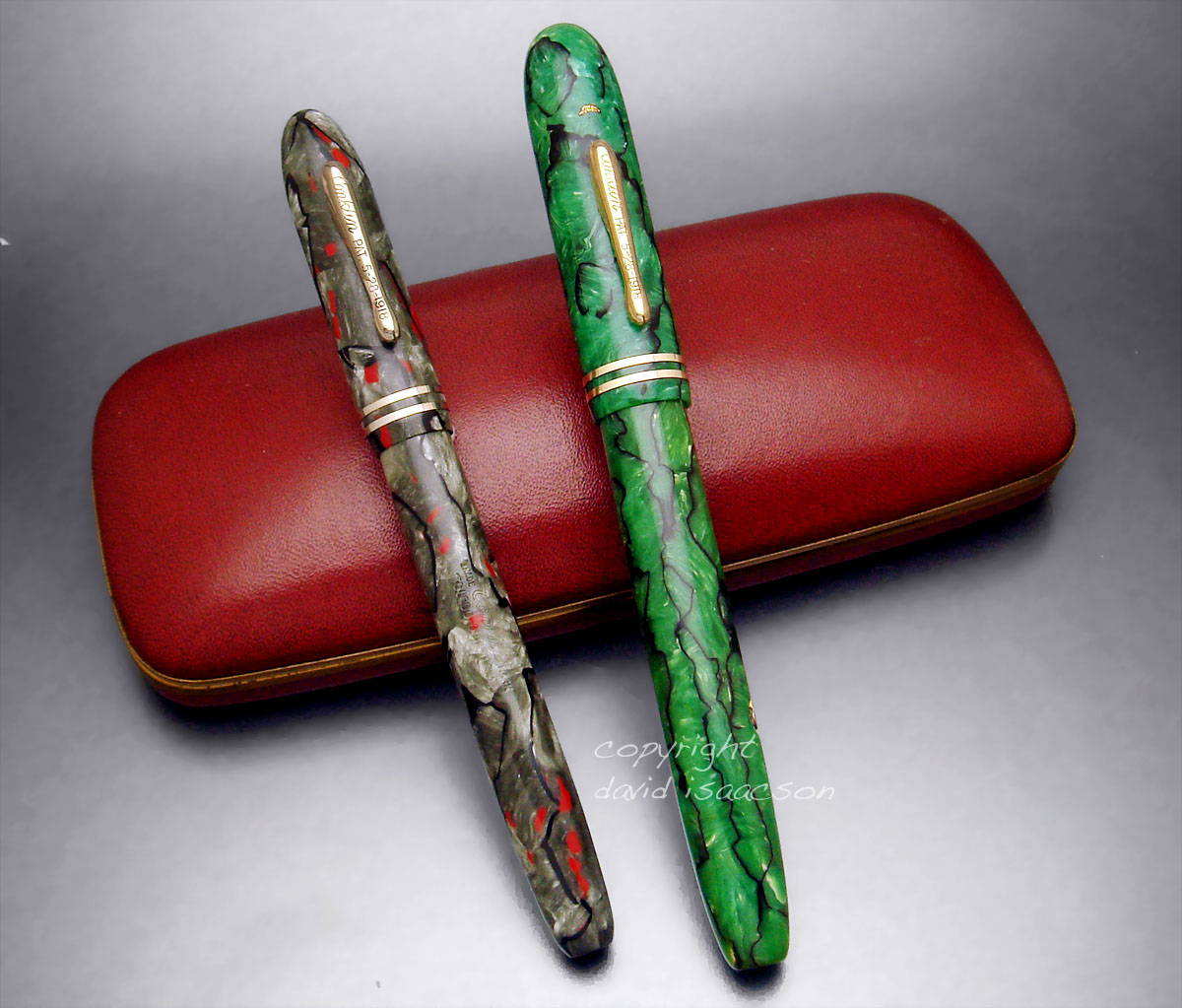 regards
david