Interesting thread !
I remember I have some interesting TMTDs when I saw this thread, I have just found them and took photos.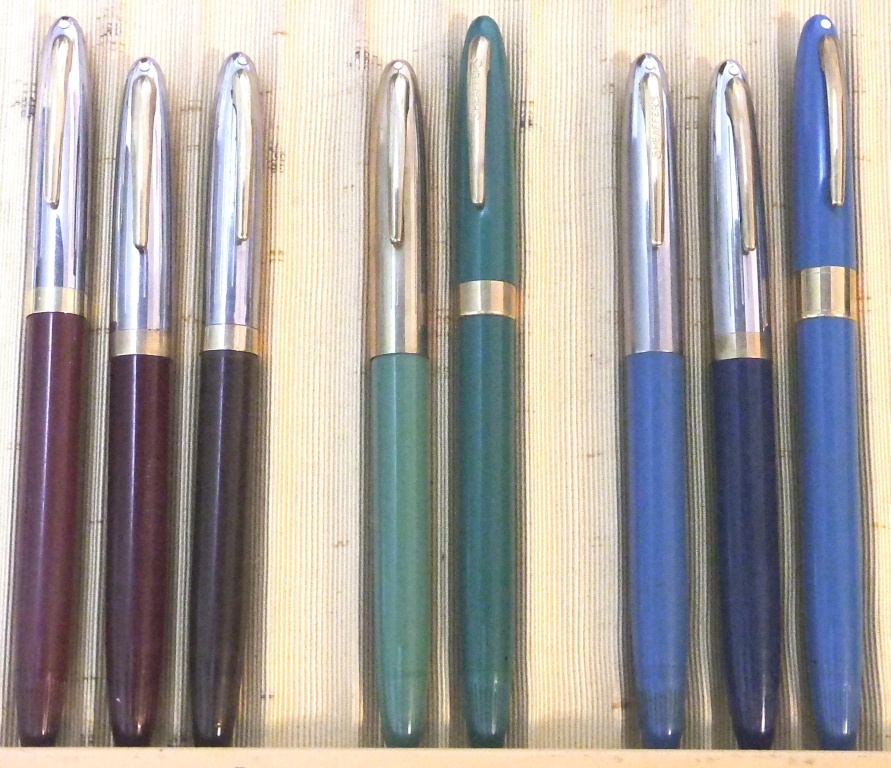 From left : Snorkel Statesman in Patel Blue; TD in Blue; TMTD Sovereign (?) in Pastel Blue; Snorkel Admiral in Pastel Green; TMTD Crest Deluxe in Sega Green; TMTD Sentinel in Brown; TD in Burgundy; Snorkel Sentinel in Burgundy

First one has a metal cap which looks like a mix of Snorkel Sovereign (pattern and "SHEAFFER'S" clip) the 'late TMTD Sovereign' described earlier (pattern and White Dot).




I don't know whether this model is part of the Sovereign family, it was a Canadian model, also come with late snorkel Pastel Blue barrel with no imprint. I treat it as non-original pen as it is equipped with a made in USA 2-tones open nib… Any suggestion to the model of this pen if it has a Canada nib ?
Second pen is a Crest Deluxe in Sega Green, the cap and the 2-tone Triumph nib specified that they were made in Canada while the barrel has no imprint.
I have another examples of the Sentinel TMTD in Sega Green, both cap, nib and barrel are marked 'Made in USA'
Seems that Sega Green is another undocumented TMTD color, it is a bit strange that late snorkel color was also produced in TMTD !
Last one is a also an undocumented color Sentinel, it has a Brown barrel, both cap, nib and barrel are marked 'Made in USA'



TMTDs showing nibs, snorkel in the middle is just for the barrel length comparison.