Parker had flat-top sub-duofold 2nd tier pens of good quality late in the flat top era, such as the Parker DQ. Around the time Parker was gearing up to switch to streamlined style, it introduced a quality 2nd-tier pen in the color, Modernistic Blue... the Parker True Blue. Had the color not started with the flat-top era and been found only streamlined, had it lacked specific catalogue description-- which we are fortunate to have-- it likely today would be considered just another of the so-called "Parker Thrift Time" pens. In fact, some pens from the streamlined era which do tend to be called "Thrift Pens", look rather like streamlined True Blue but in colors not referenced in this model by Parker. Who knows, sans catalogue info today we might be calling it the Taffy colored Thrift Pen.
As with most pens of pale celluoid, the white portions of the pen often are found discolored, and even the blue can fade. As with diamonds color preservation is an important part of value/cachet for old celluoid pens, and collectors thus cherish specimens with well preserved color. Price varies significantly in that context.
The True Blue was reissued as a modern Duofold a few years ago, a nice tribute to this 1928-1929'ish pen.
I've seen many and have handled many and have sold several. On the occasion of finding one with very nice color, I've tended to pop it into the personal collection, though I do not hunt True Blue with a competist bent.
Pens are found
long and short, flat-top and streamlined. All have same girth. Recollection is that caps (at least for streamlined pens) are same length on long and short models (barrels are different length), though I must pull some pens to confirm. Suspect short pens were shown both ring-top and clip, though must confirm that as well.
The following three are gems, the three I have in my own collection. The streamlined pen still with price sticker and has killer color; the *slightly* ambered pen at center having still great color and having about the nicest pattern to the plastic I've seen.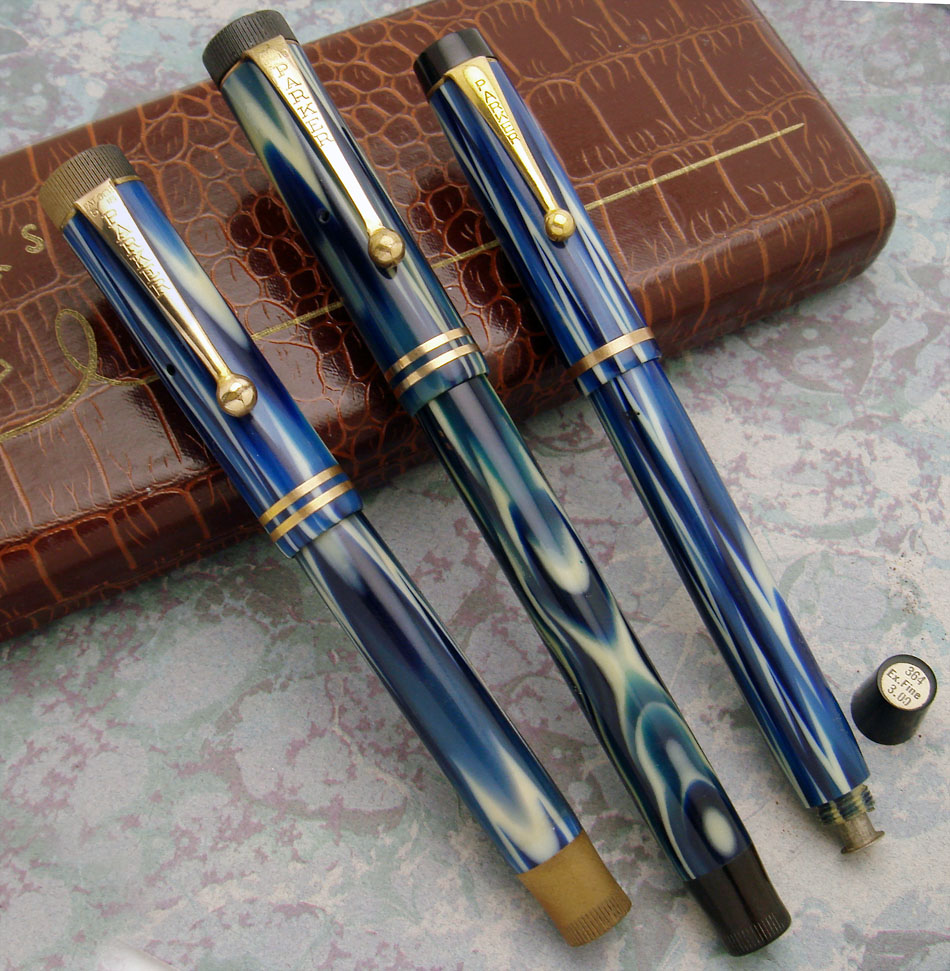 Here is an example of more typical barrel color, followed by another shot of the middle pen above, done with similar technique to the pen with the darkened barrel. Both of these are long models from their respective eras


regards
David