Posted 14 January 2019 - 04:40 AM
Here are four. Are there more?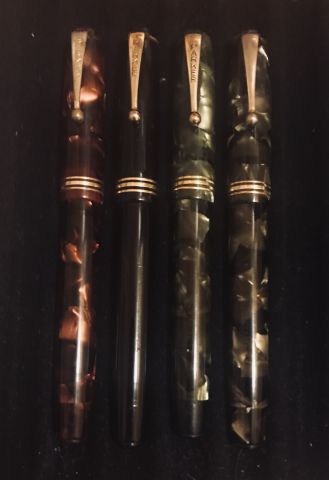 ---
Posted 24 January 2019 - 04:56 PM
Yes, there are quite a few more Parker Depression?Thrift Time pens.
I don't collect them, so I can't really show any examples, but I've seen pictures of pretty extensive collections.
vintageinkpens.com
Facebook.com/vintageinkpens
---
Posted 06 February 2019 - 12:23 PM
These came in two sizes, but I think you've got all the colors.
---
---
Also tagged with one or more of these keywords: Parker
PENS OLD AND NEW

→

USA "Other": Bexley; Cross; Esterbrook; Carter, Chilton, Moore, Leboeuf, Dunn, Triad, etc.

→


Started by

RickB

,

09 Aug 2017

Eagle

,

Franklin

,

Parker

,

Victory

PENS OLD AND NEW

→

Post Your Pen Finds

→


Started by

penmanila

,

09 Jul 2017

sumgai

,

parker

,

vacumatic

,

ebay

PENS OLD AND NEW

→

Post Your Pen Finds

→


Started by

RickB

,

10 Jun 2017

Parker

,

Parkette

,

Deluxe

PENS OLD AND NEW

→

Post Your Pen Finds

→


Started by

RickB

,

07 May 2017

Parker

,

Parkette Deluxe

PENS OLD AND NEW

→

PARKER: (USA "Big Five")

→


Started by

RickB

,

25 Feb 2017

parker

,

parkette

,

deluxe
0 user(s) are reading this topic
0 members, 0 guests, 0 anonymous users